Skip to content
Skip to navigation menu
Royal Canin VHN Urinary Moderate Calorie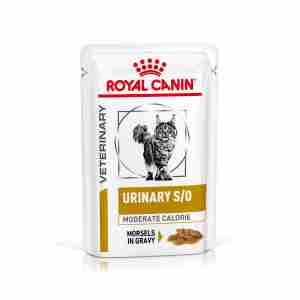 Rollover image to zoom
Product details
Royal Canin Urinary Moderate Calorie is full of the nutrients your cat needs to maintain a healthy weight and also contributes to healthy kidney and bladder operation.
How it works
This food contains fewer calories than standard food, which means it can help to keep your cat at a healthy weight, even if they tend to overeat. This can be especially beneficial to neutered cats, who require less food overall.
Additionally, the 8% moisture level aids the dilution of your cat's urine. This can help to ease bladder diseases by reducing the concentration of harmful substances.
The formula also employs 'relative super saturation', which causes your cat's urine to become more acidic. This has the benefit of reducing the formation of struvite and oxalate crystals in the bladder and kidneys. These crystals can go on to form stones if not kept in check.
A varied flavour and ingredient profile ensures that the food is packed full of all the nutrients your cat needs, with a flavour they'll love, making it easy to get them eating it.
Key benefits
high moisture levels benefit your cat's bladder and kidney functions
acidifies urine, helping to reduce the formation of bladder and kidney stones
natural ingredients with a taste your cat will enjoy
moderated calorie count contributes to maintaining a healthy weight
balanced nutritional value.
When to use it
Cats, just like us, can suffer from being overweight. Your cat also shares many of the same potential health risks, including diabetes, arthritis, and skin problems. If your cat is seriously overweight, it can also affect life expectancy. Switching to a lighter diet, with food like Royal Canin Urinary Moderate Calorie, could help to reduce weight gain.
If your cat is suffering from a bladder disease, such as feline idiopathic cystitis, then this food can help to alleviate the effects. Some signs that your cat might have a bladder problem are an increased need to go to the toilet and pain, difficulty or visible blood when urinating.
Because veterinary diets are formulated for the nutritional support of pets with specific clinical conditions, we recommend that you only use them under professional advice. For more information on feeding Royal Canin Urinary Moderate Calorie to your cat, please consult your veterinary surgeon.
Ingredients
Ingredients:
Meat and animal derivatives, derivatives of vegetable origin, minerals, cereals, vegetable protein extracts, oils and fats, various sugars. Crude ash: 1.8%. Crude fibre: 1%. Crude oil fats: 3.5%. Moisture: 80%. Protein: 10%.
Additives:
Vitamin D3: 225 IU, E1 (Iron): 3 mg, E2 (Iodine): 0.25 mg, E4 (Copper): 2 mg, E5 (Manganese): 1 mg, E6 (Zinc): 10 mg, Urine acidifying substances: calcium sulfate: 0.25%. Technological additives: (acidity regulator) Sodium bisulfate: 0.5 g.
Warnings
Customer reviews
Product reviews are filtered by language.
The following reviews are available in English.
royal canin

My cat loves this food especially the gravy

Great product

Asked to review this again after I reviewed it March 2014 can still say this product is excellent and both cats still love it and it has kept them alive for nearly 10 years thoug I do change from moderate calorie to ordinary occasionally and they love both equally

Excellent product

My 6 year old male cat has been on this diet for nearly 3 years now following a life threatening bout of a urinary infection and blocked urethra. Knowing how fussy cats can be, I'm very relieved and happy to say he still loves it after all this time! Price is very reasonable and service excellent each time by the Petmeds team.

Quality

My cat won't eat anything else...cheapest on this site ... vets charge too much.fab quick service too.

Quality

Quality food , service and loyalty rewards... cat loves his food and if I'm late on ordering...the cat turns her nose up at anything else. Pet supermarket have great super service