Skip to content
Skip to navigation menu
Add to an existing Repeat Order
Add to an existing Repeat Order
Licensed item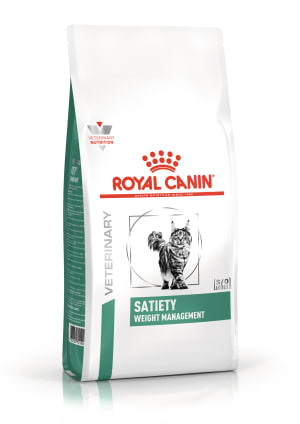 Royal Canin Satiety Adult Dry Cat Food
This is a licensed item so for regulatory reasons and to ensure we are providing the best product for the health of your pet, we need to ask you to confirm a few details.
Please confirm the type of animal you will be giving this licensed product to:
I am aware of the relevant safety precautions relating to the licensed products.
I will read the packaging and product literature before using any licensed products, and will use all licensed products according to the manufacturer's datasheet
I am not buying for resale and I am happy to be contacted if required
I confirm that the animal the licensed products will be given to is in general good health
I confirm that the animal the licensed products will be given to is NOT pregnant or lactating
Add to an existing Repeat Order
Licensed item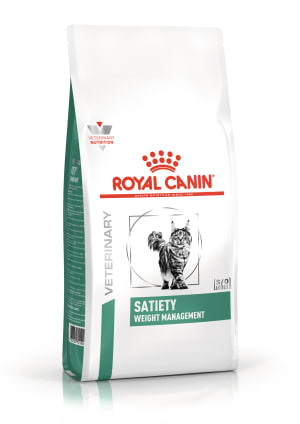 Royal Canin Satiety Adult Dry Cat Food
This is a licensed item so for regulatory reasons and to ensure we are providing the best product for the health of your pet, please read and confirm the details below:
By purchasing this product, you confirm your pet has been examined by a vet who has recommended the use of this food on the basis of examination and diagnosis.
You understand it is recommended while your pet is being fed this product, you seek veterinary advice at least every 12 months regarding the usage of this food and the on-going care of your pet.
Should your pet's condition deteriorate in any way while using this product, seek immediate veterinary advice.
Add to an existing Repeat Order
You are adding: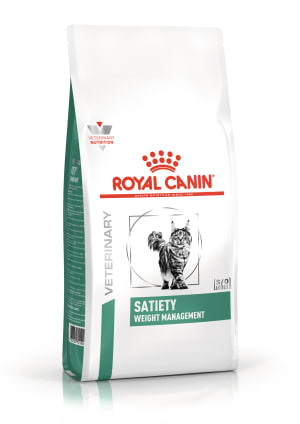 Royal Canin Satiety Adult Dry Cat Food
To the following repeat order:
Next order due on:


Delivered every
text.account.new.upcoming.orders.payment.brand.
Add to an existing Repeat Order
Thank you, we have updated your order. Your order is due on
You're setting up the following repeat order: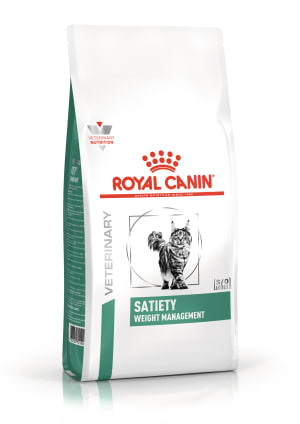 Royal Canin Satiety Adult Dry Cat Food
Product details
Royal Canin Feline Satiety Support is a dietetic food designed to facilitate weight loss in cats and keep them feeling fuller for longer.
How it works
This low-calorie food helps your cat get the nutrients they need during a weight loss regime. The low energy content means that your cat can lose weight even if they don't exercise often. The formula is designed to keep cats from feeling hungry; the special blend of fibre keeps stomachs feeling fuller for longer. As well as stopping hunger pangs, this also reduces the chances of them searching for extra food to snack on. The food is high in protein to help maintain muscle mass, and has added nutrients to support joints (which might have been under pressure due to the excess weight). Added omega-3 and omega-6 fatty acids keep coats healthy and shiny.
Key benefits
low calorie to help weight loss
fibre blend keeps cats feeling fuller for longer
added nutrients compensate for lower energy content and offer joint support
high protein maintains muscle mass
contains omega-3 and omega-6 fats for a healthy coat
full nutrition: generally no need to supplement with other food.
When to use it
Obesity in cats can cause problems from difficulty grooming to a shorter lifespan. To be classed as obese, your cat's body weight will be 10-15% higher than the breed standard. An easy test you can do at home is stroking their side: you should be able to feel your cat's ribs under a thin layer of fat. You should be able to see a waist when you look at them from above. If you can't, your cat may be overweight.
Royal Canin Feline Satiety Support can often replace your cat's normal meals until they reach their goal weight. Once there, you can maintain a healthy weight by reducing the number of treats you give them and by encouraging exercise. This could involve buying them a new climbing frame, or hiding their food around the house so that they have to 'hunt' for it.
Because veterinary diets are formulated for the nutritional support of pets with specific clinical conditions, we recommend that you only use them under professional advice. For more information on feeding Royal Canin Feline Satiety Support to your cat, please consult your veterinary surgeon.
Ingredients
COMPOSITION: dehydrated poultry protein, vegetable fibres,tapioca, wheat gluten*, maize gluten, wheat flour, hydrolysed animal proteins,animal fats, minerals, chicory pulp, fish oil, psyllium husks and seeds,hydrolysed crustaceans (source of glucosamine), marigold extract (source oflutein), hydrolysed cartilage (source of chondroitin).
ADDITIVES (per kg):Nutritional additives: Vitamin A: 25200 IU, Vitamin D3: 1000 IU, E1 (Iron): 37 mg,E2 (Iodine): 3.7 mg, E4 (Copper): 4 mg, E5 (Manganese): 48 mg, E6 (Zinc): 143mg, E8 (Selenium): 0.06 mg - Preservatives - Antioxidants.
ANALYTICAL CONSTITUENTS: Protein: 34% - Fat content: 9% - Crude ash: 8.8% - Crude fibres:13.9% - Per kg: Metabolisable energy: 3066 kcal - Omega 6 fatty acids: 18.4 g -Omega 3 fatty acids: 3.9 g. *L.I.P.: protein selected for its very highassimilation.
| | |
| --- | --- |
| | |
| Vitamins | Amount |
| Choline (mg/kg) | 3200.0 |
| Folic acid (mg/kg) | 13.0 |
| Vitamin B1 Thiamin (mg/kg) | 17.1 |
| Vitamin B12 Cyanocobalamin (mg/kg) | 0.18 |
| Vitamin B2 Riboflavin (mg/kg) | 61.6 |
| Vitamin B3 Niacin (mg/kg) | 190.9 |
| Vitamin B5 Pantothenic acid (mg/kg) | 66.8 |
| Vitamin B6 Pyridoxine (mg/kg) | 47.3 |
| Vitamin D3 (UI/kg) | 1000.0 |
Feeding Guide
Feeding guide:
Target Adault Weight (kg)
Lean
Normal
Overweight
g
g
g
2.5
33
26
35
3
38
30
40
3.5
42
33
45
4
46
37
49
4.5
50
40
53
5
54
43
57
5.5
58
46
61
6
62
49
65
6.5
65
52
69
7
69
55
73
7.5
72
57
77
8
76
60
80
8.5
79
63
84
9
82
65
87
9.5
86
68
91
10
89
70
94
Customer reviews
Product reviews are filtered by language.
The following reviews are available in English.
Bellas diabetic remission

My cat Bella was very over weight and the vet warned me that she could become diabetic so she put her on these satiety biscuits which was a job to get her to like them in the beginning but persisted and she now loves them but alas she still become diabetic so had to have insulin every day, so the vet put her on the diabetic biscuits along with satiety so she had half and half of each and to our amazement after about 6 months she became stable and now doesn't need her insulin which is great news and less money. We still have to test her every 10 days just to make sure but it's been 3 months now and still she is fine and her weight is now what she should be and looks great so please with with this food which has probably saved her life

Royal Canin Satiety Biscuits

When we adopted our cat she was overweight. After a check up at the vet, our vet recommended Royal Canin Satiety biscuits to get her down to a healthy weight and maintain it. After a year, our cat is now at her desired weight. She loves the biscuits and woofs them down. She still always wants more food though!

Royal Canin Satiety Biscuits

My cat loves his biscuits and it makes it easier for me to control his weight. As he is a younger cat I feed him a sachet of wet food and a portion of Royal Canin biscuits each day. He is now a healthy weight for his size.

Royal Canin Satiety Dry Food

Tia loves your product! My cat Tia is always asking for food and at one time my Vet told me she was overweight and did I want her to become diabetic and be on medication for the rest of her life? Obviously no I didn't! Since she has eaten your obesity product she has maintained a healthy weight and everyone remarks on how healthy she looks and is. Thank you. She still asks for food!

RC Satiety cat food

Cats are really enjoying it at the moment, but not given on a daily basis. So hopefully all will be well into the future.