Skip to content
Skip to navigation menu
You have setup the following Repeat Order: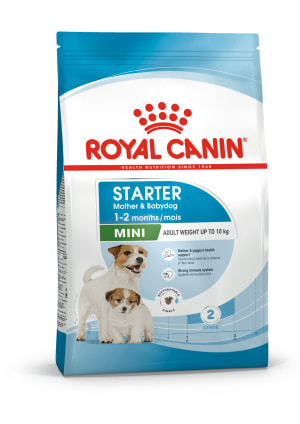 Royal Canin Mini Starter Mother & Babydog Puppy Food
Product details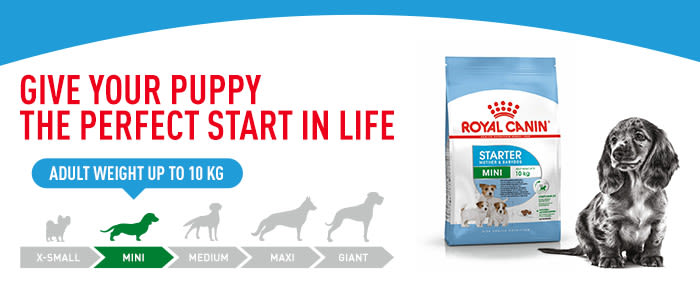 DID YOU KNOW THAT YOUR SMALL BREED PUPPY MULTIPLIES HIS BIRTH WEIGHT BY 20 TIMES IN 10 MONTHS?

A Puppy is a growing dog: the composition, texture and size of their food, must therefore be adapted to the puppy's age. Diet during the growth period plays a key role in a puppy's future morphology and health.
ROYAL CANIN Starter Mother & Babydog Mini made for small dogs with adult weight up to 10kg. Bitch during gestation and lactation - Weaning puppies up to 2 months old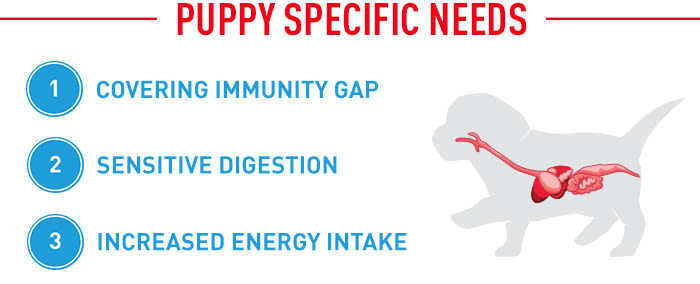 • During growth period the immune system needs suport
• Digestive system is immature it needs special combination of nutrients
• Due to the intense metabolic activity, a puppy require 2x more energy than an adult dog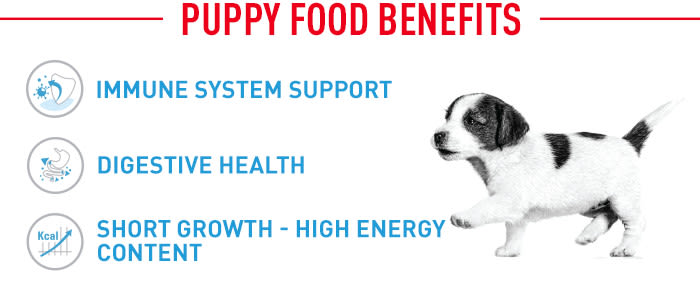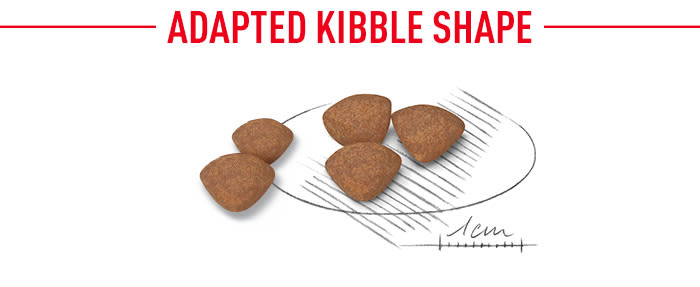 ADAPTED KIBBLE SIZE – EASY TO CHEW:
Jaw size also depends on the dog's adult size. A medium breed sized kibble can generate chewing issue for small breed dogs and waste issues for giant breed dogs.

SUITABLE FOR HIGH ENERGY NEEDS:
Meets the energy needs of small breed puppies during the growth period,
and satisfies fussy appetites.

HIGHLY DIGESTIBLE COMPOSITION:
Combination of nutrients with high quality protein (L.I.P.*) and prebiotics (FOS).

IMMUNE SYSTEM SUPPORT:
Royal Canin Mini Puppy helps support your puppy's natural defences thanks
to a patented complex of antioxidants including vitamin E.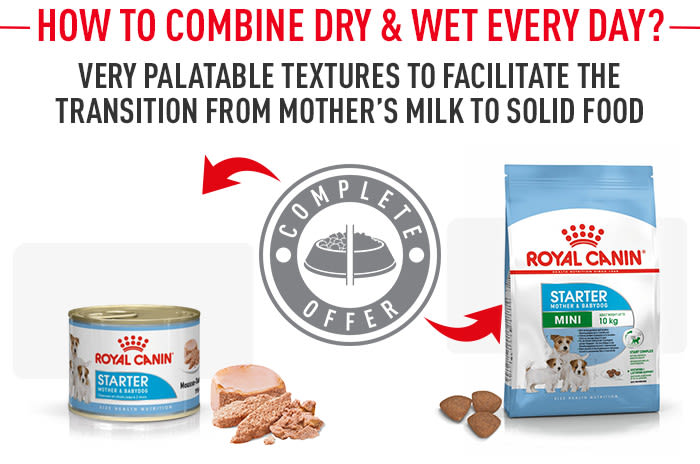 Very palatable textures to facilitate the transition from mother's milk to solid food.

Kibbles benefits: Concentration of nutrients, and a texture providing
a brushing effect on the teeth with positive outcomes on oral health.

Wet Food benefits: Naturally moister which helps reduce the risk of urinary problems and maintains healthy weight.
Ingredients
Feeding Guide
Customer reviews
Product reviews are filtered by language.
The following reviews are available in English.
Excellent product

My Cavalier King Charles went completely off her food most of her pregnancy, I tried everything, I was very worried & after reading up on this food I ordered a bag & like magic as soon as I put the bowl of food in front of her she ate the lot , she has never stopped eating since & has a lovely healthy litter of 7 puppies , needless to say I will be weaning them onto this food & sending them off to their new homes with a bag of this food

Mini starter

All 4 of my pups love it and so does mummy dog too

Happy Mum and Pups

I've been feeding this to our Norfolk Terrier bitch while she's been feeding her 3 pups, and she certainly seems to have kept her weight on (and is loving getting 4 meals a day!!). After 4 weeks, I soaked some of the biscuits in a little water and was amazed when the pups ate them without hesitation. Success all round.

Just using this to start weaning my yorkie babies, first taste off milk today and little mouths slapping with contentment! ordered this and my yorkie adult r.c.for the first time online.Quick no fuss delivery, only negative is the delivery man himself.

We've been feeding our Smooth Fox Terrier Bitch on this food 2-weeks before whelping. Now we're well into weaning this food is readily digestible by the Pups. Soak it to slush for very young babies, then reduce the water content as they get older, they LOVE IT! Mum hasn't done too badly on this product either. Coat and teeth are in near pre-whelping condition. Recommended.