Skip to content
Skip to navigation menu
You have setup the following Repeat Order: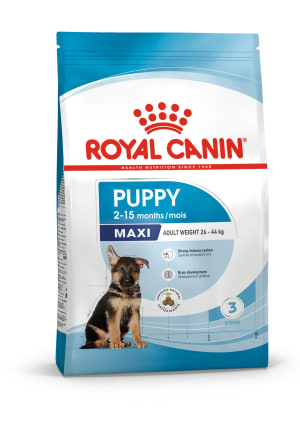 Royal Canin Maxi Puppy Dry Food
Product details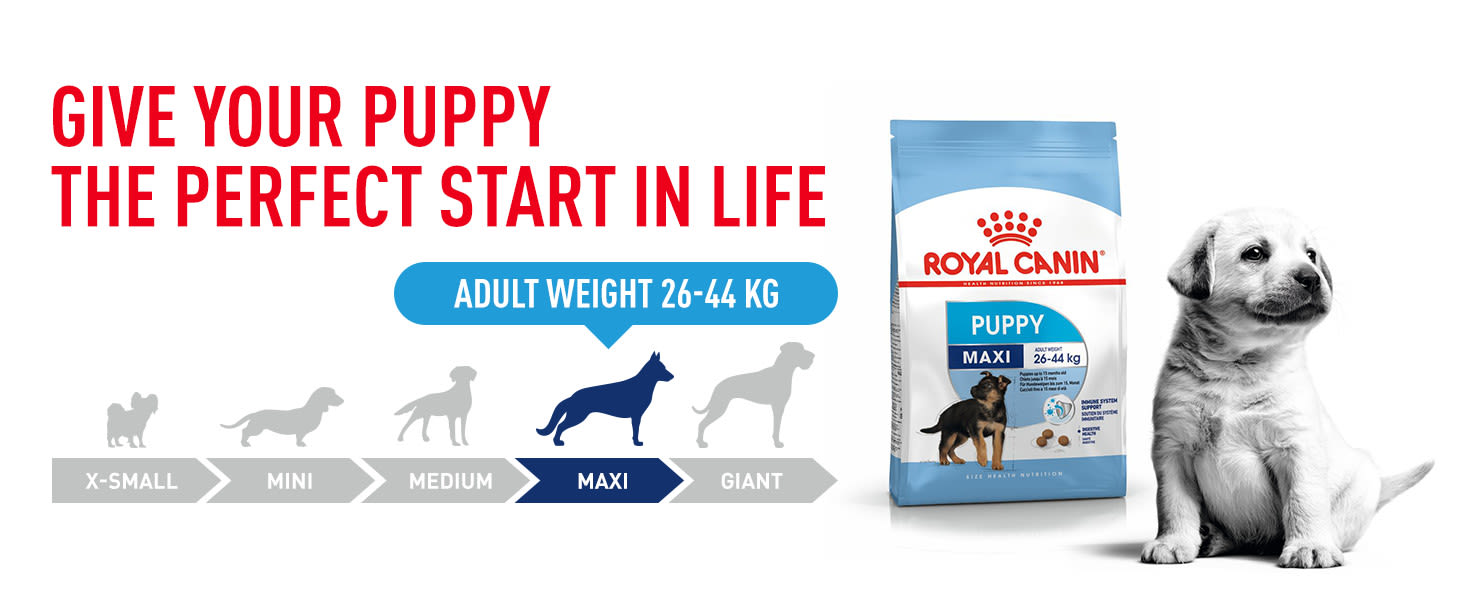 DID YOU KNOW THAT YOUR LARGE BREED PUPPY MULTIPLIES HIS BIRTH WEIGHT BY 70 TIMES IN 15 MONTHS?

A Puppy is a growing dog: the composition, texture and size of their food, must therefore be adapted to the puppy's age. Diet during the growth period plays a key role in a puppy's future morphology and health.
ROYAL CANIN Puppy Maxi made for large dogs with adult weight from 26 to 44kg. From 2 to 15 months old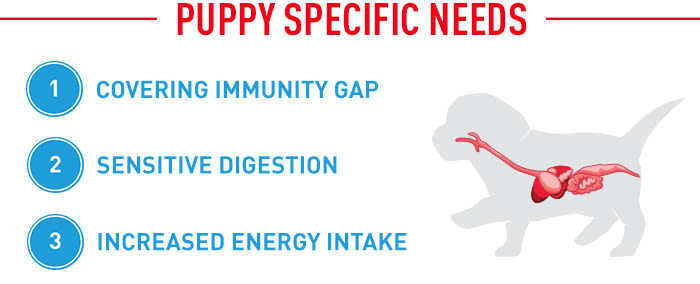 • During growth period the immune system needs suport
• Digestive system is immature it needs special combination of nutrients
• Due to the intense metabolic activity, a puppy require 2x more energy than an adult dog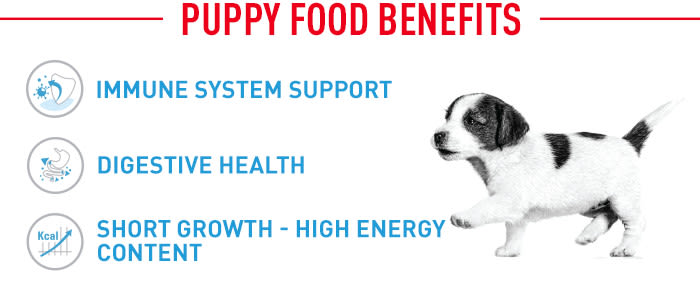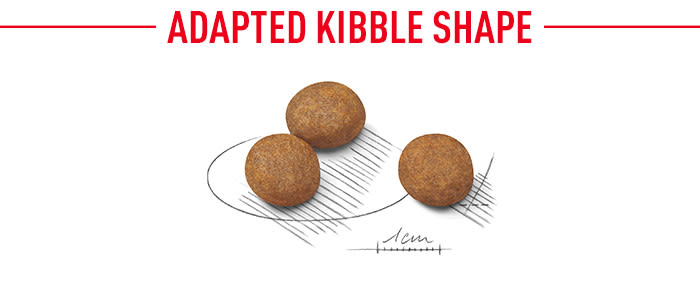 ADAPTED KIBBLE SIZE – EASY TO CHEW:
Jaw size also depends on the dog's adult size. A medium breed sized kibble can generate chewing issue for small breed dogs and waste issues for giant breed dogs.

SUITABLE FOR HIGH ENERGY NEEDS:
Meets the energy needs of small breed puppies during the growth period,
and satisfies fussy appetites.

HIGHLY DIGESTIBLE COMPOSITION:
Combination of nutrients with high quality protein (L.I.P.*) and prebiotics (FOS).

IMMUNE SYSTEM SUPPORT:
Royal Canin Mini Puppy helps support your puppy's natural defences thanks
to a patented complex of antioxidants including vitamin E.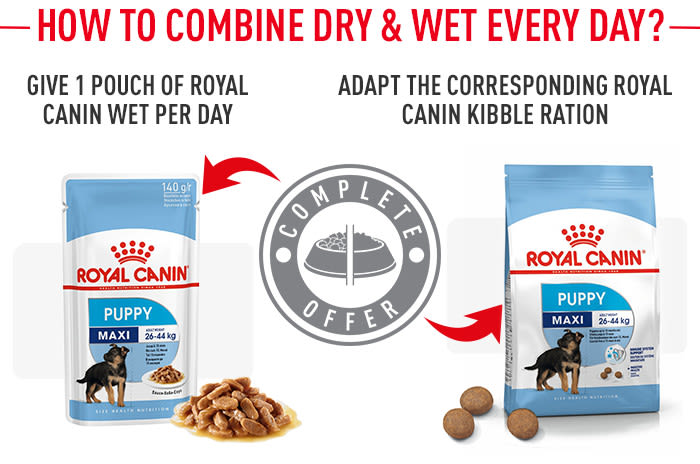 Very palatable textures to facilitate the transition from mother's milk to solid food.

Kibbles benefits: Concentration of nutrients, and a texture providing
a brushing effect on the teeth with positive outcomes on oral health.

Wet Food benefits: Naturally moister which helps reduce the risk of urinary problems and maintains healthy weight.
Ingredients
Feeding Guide
Customer reviews
Product reviews are filtered by language.
The following reviews are available in English.
Great food for my pup

Royal canine is the best dried food for pets in my opinion. Giving your pet the correct nutrition. I am using this for my new pup & used it for my last pet too.

I picked this food for my new puppy from a recommendation from my nutritionist teacher; after putting my pup on this she has filled out and thoroughly enjoys the taste which I am thankful for (a lot of food she just used to leave and she was quite skinny when I bought her). With her being a German Shepherd x Samoyed I needed her to eat more to help her coat to develop and for her to physically thrive which she has done thanks to this food. I will definitely be sticking to this feed if I buy another pup.

I have an 8 month old GSP who has been on Royal Canin since 8wks old. She is absolutely thriving on it. Her coat is glossy and she's fit and very healthy. It is expensive but you need only feed the recommended quantities safe in the knowledge that she is getting a balanced, healthy diet. But the best thing about it is that she loves her food and always finishes it, in fact when the bags arrive from Pet Supermarket she gets really excited. Definately worth the money guys!

I started to worry about my GSD pup, she did'nt put any weight on so thin her ribs protruded a friend reccomended Royal Canin specially made for GSD's put her on it some months ago, bought from you,when I opened the bag it smelt so good she does'nt have a big apertite but she has now filled out and looks superb, her coat is so glossy people comment on it. She is more alert and attentive, I think this is important as it makes it easier to train her.This has to be down to the ingredients it is made from.

Our Labrador puppy loves this food, and seems to be thriving on it! The food smells good and is quite oily, which keeps him looking really healthy with a beautiful shiny coat. We feel confident that we are giving our dog great quality nutrition with a food which provides him with everything he needs for healthy growth.