Skip to content
Skip to navigation menu
Add to an existing repeat order
Add to an existing repeat order
You are adding: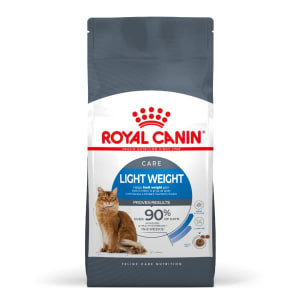 Royal Canin Light Weight Care Adult Cat Dry Food
To the following repeat order:
Next order due on:


Delivered every
ending
Add to an existing repeat order
Thank you, we have updated your order. Your order is due on
You're setting up the following repeat order: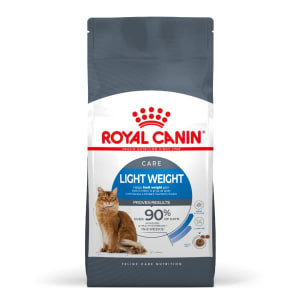 Royal Canin Light Weight Care Adult Cat Dry Food
Product details
Royal Canin Feline Light Weight is specially blended to help your cat limit weight-gain, while providing all the nutritional requirements they need.
This food is a mix of hydrolysed proteins, healthy oils, fats, and fibres, which provide excellent nutritional value while limiting fat intake. Hydrolysed proteins are proteins which are already partially broken down in the food. This makes them very easy for your cat to digest and absorb. The blend of vegetable fibres works with the proteins to help keep your cat feeling satisfied and full. The mix is proven to reduce daily calorie intake by up to 17%, making it suitable if your cat needs to return to a healthier weight. L-carnitine is also included, which aids your cat in converting fatty acids into energy. Additionally, it contributes to lower overall cholesterol levels.
Key features:
healthy ingredients with low fat content
hydrolysed proteins are easy for your cat to digest
fibres help to satisfy your cat's hunger, reducing overeating
proven to reduce daily calorie intake by up to 17%
L-carnitine helps reduce cholesterol.
If your cat is overweight, they could be at risk from many of the same health problems as humans. Diabetes, joint damage, and difficulties with organs are all possible outcomes. Your cat gains weight when they eat and produce more energy than they use. This energy is measured as calories. Additionally, neutered cats can suffer problems with weight gain, as the neutering alters a cat's metabolism. This often means your cat will still have the same appetite, but their body actually needs less food. Keep an eye on your cat. If they seem to be a little lazier than normal, or make a loud noise when jumping off the sofa or bed, they could be overweight. You should be able to feel your cat's ribs if you gently feel the torso. This is generally a sign your cat is at a healthy weight.
Ingredients
Feeding Guide
Customer reviews
Product reviews are filtered by language.
The following reviews are available in English.
My cat loves it.

My cat loves this as much as the higher calorie versions, which is useful.

She never eats anything else

Keeps my cat healthy and happy. She doesn't understand that there is any other sort of food. She loves it

My delightful Maincoon _ Twinkle

Bless, the vet put him on a diet. This big cat adores his food. Thankfully finding Royal Canon Light has made all the difference to him, and he loved it

appreciated

Initially my cat enjoyed having these biscuits daily over a week or so, then not. But only for a short time as she now still likes having them on alternate days, as I also give her others to help her lose some weight.

Royal canin light weight care

The cat certainly likes the taste of the biscuits, and hopefully in time it will help her to lose a little more weight. But as yet I have only given her them over the last few weeks, as I have several others.