Skip to content
Skip to navigation menu
Royal Canin Hair & Skin Care Dry Adult Cat Food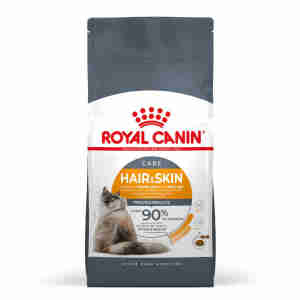 Rollover image to zoom
Product details
AWAITING REPLENISHMENT. ALTERNATIVES CLICK HERE
Royal Canin Hair & Skin Care is an exclusive complex of nutrients that help to support the skin's barrier role. It contains high quality proteins, including specific amino acids, to maintain healthy hair growth and skin renewal.
The formula also contains soya and borage oil (rich in gamma linolenic acids) as well as fish oil to help your cat maintain a healthy, glossy coat. The blend of fish oil, soya and borage oil are hugely beneficial on skin and coat.
Other key nutrients, such as B-vitamins, amino acids, zinc and copper have been included to support your cat's skin. Together, these nourish your cat's skin and fur by supporting the skin's barrier function and maintaining optimal skin beauty as well as hair strength and density.
The exclusive use of Royal Canin Hair & Skin Care has been clinically proven to significantly increase coat shine after just 21 days of use.
Product Benefits
Essential fatty acids (such as omega-3 & omega-6) added for skin and coat health
Includes nutrients, such as B-vitamins, amino acids, zinc and copper
Special blend of nutrients helps support your cats urinary system
Amino acids to encourage healthy skin and coat
Special formula to maintain the health of an adult cat's urinary system
Ingredients
Feeding Guide
Customer reviews
Product reviews are filtered by language.
The following reviews are available in English.
WOW, WOW YOU HAVE TO TRY THIS PRODUCT

Well my three cats have been suffering with dry skin and dull coat for several months, despite several visits to the vets and even a steroid injection as they were yanking their fur out in clumps. Little and temporary improvement and so upsetting. So this was sent to me by email from medicanimal, so I thought let's give it a go, I've tried everything else. It says on the packet proven results within 21 days, I kid you not they have started to improve after 5-7 days. Their coat is coming back shiny, they have reduced the itching and pulling out the fur immensely. So you can imagine after 21 days how the fur and symptoms will be, I will use this product indefinitely as it says what it does on the packet. Thank you Medic animal for recommending this to me.

Cat likes it

Our cat is older than the Royal Canin age recommendation for this product but even the vet is surprised how healthy she is. I'm convinced these biscuits do help her skin and hair as she looks so well on it. She loves the taste, although she also eats a selection of Royal Canin ncluding Beauty, Sensible and Exigent.

Extremely Good Product

I have noticed a big difference in all four of my cats since feeding them on Royal Canin hair & skin their coats are really glossy & silky soft, my ragdoll is much easier to groom now. Another of my cats used to get dry flaky skin this has now gone. I would highly recommend this product, I have found it is especially good for my long haired cats.

Excellent product

I've bought Royal Canin Hair and Skin for a long while now on the recommendation of a friend who runs a Persian rescue. It's an excellent product - we really noticed the difference in our cats once they started eating it. It's the only dry food we buy now.

Excellent product

I buy this for my 11 year old RagDoll, she is a very fussy eater but she loves this food. She only has in very small quantities but it does make a difference to her coat. It is simply wonderful. I would recommend to any cat owner to try their cat on this and leave the cheaper dry cat food on the shop shelf!