Skip to content
Skip to navigation menu
Royal Canin Dalmatian Adult Dry Dog Food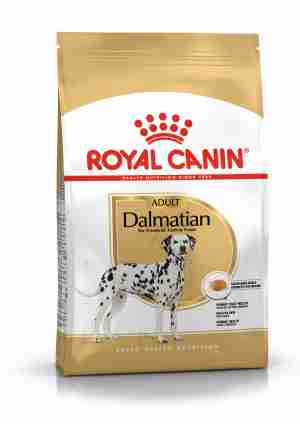 Rollover image to zoom
Product details
The Dalmatian is a generally active breed that requires a fair amount of exercise and mental stimulation to prevent boredom. Because the needs of each breed are different, it's important that your dog's diet helps to maintain optimal health for its specific requirements.
Suitable for Dalmatians over 15 months old, Royal Canin Dalmatian Adult is specially formulated with all the nutritional needs of your adult dog in mind to help maintain its health and wellbeing.
Royal Canin Dalmatian Adult helps support the skin's "barrier" role with a specific complex of nutrients. This formula also helps to maintain skin health through the inclusion of the Omega-3 fatty acids EPA and DHA.
Dalmatian dogs require specific nutrients to support optimal urinary health. Therefore, Royal Canin Dalmatian Adult includes specifically adapted sources of protein to help maintain a healthy urinary system.
Furthermore, Royal Canin Dalmatian Adult contains specific nutrients to help support healthy cardiac function through an enrichment of taurine. EPA & DHA, which also support skin health, are also instrumental Omega-3 fatty acids for the support of cardiac health.
Product Benefits
Urinary tract health
Healthy skin
Supports cardiac health
Supports urinary health
Supports a healthy coat
p>
Ingredients
Feeding Guide
Customer reviews
Product reviews are filtered by language.
The following reviews are available in English.
Delicious !!

My Dalmation loves this food.

Royal Canin.

Having had four Dalmatians in the passed that all had health problems, the breeder of the Dalmatian we have now recommended Royal Canin when we collected him as a puppy. We have not had any of the normal Dalmatian health problems with him, touch wood. Oh I should also say, that his breeder is an international dog show judge for Dalmatians.

For stone formers

My boy is a stone former but no problems at all on this food.

Hi All, My Dalmation is so much better over the last few weeks after using this product. I have nearly finished the large sack and gurgling tummies are very few and far between (usually after human food treats) and her stools have no mucus in them now. For me this is a great success and she is a much more settled dog now after she has eaten. One thing this food does NOT help..... she still moults little white needles for 53 weeks of the year !!!! Good job we love her ;-)

I have just ordered this product as I have a dalmation who suffers with both colitis and bladder crystals. The bladder crystals are being treated by my vet by the administering of Allopurinol daily. The colitis is still trial and error. She is currently fed on James Wellbeloved cereal free kibble but is still very 'windy' and has a very gurgling tummy. Once I have introduced the food gradually, I will report back again through the reviews to update on her progress with the new food. Watch this space!