Skip to content
Skip to navigation menu
Royal Canin Canine Urinary S/O Moderate Calorie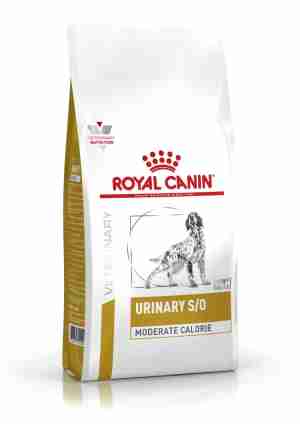 Rollover image to zoom
Product details
Royal Canin Canine Urinary S/O Moderate Calorie is a complete feed that helps dissolve bladder stones and stop their recurrence. The moderate calorie formula also helps your dog to maintain a healthy weight.
How it works
Royal Canin Canine Urinary S/O Moderate Calorie helps to dissolve struvite and calcium oxalate stones by acidifying the urine and controlling magnesium levels. A high urinary PH will assist in dissolving existing bladder crystals. Magnesium is a component of struvite, so by controlling your dog's intake you can make it less likely for the stones to form.
If your dog's urine is becomes saturated with certain minerals, it will be more prone to bladder stones. This formula helps to dilute the urine, making crystal formation less likely. Diluting the urine also flushes out the urinary tract helping to get rid of bacteria that can cause infection.
This reduced calorie formula is perfect for dogs who are prone to gaining weight. High protein levels encourage your pet to use fat as energy and promote more active lifestyle.
Key benefits
acidifies the urine to help dissolve struvite and calcium oxalate stones

controls magnesium levels in the urinary tract to prevent crystals from forming

dilutes the urine to make recurrence of stones unlikely and flush out the bladder

reduced calorie formula helps overweight dogs maintain a healthy weight.
When to use it
Struvite and calcium oxalate stones are dangerous to your dog's health. They can block the urinary tract and cause bacteria build up and infection. It's not always easy to recognise the symptoms of bladder stones, however there are a few things you can look out for. Difficulty urinating, bloody or cloudy urine and lethargy are all signs that your dog may have a urinary infection.
If you think your dog is suffering from urinary crystals, you should consult your vet for a full examination and diagnosis. Royal Canin Canine Urinary S/O Moderate Calorie can replace your dog's regular food for the duration of their illness. Check the feeding guide to make sure you're giving them the ideal amount for their size and weight and monitor their reaction closely. If you notice weight gain, adjust their daily feed.
Because veterinary diets are formulated for the nutritional support of pets with specific clinical conditions, we recommend that you only use them under professional advice. For more information on feeding Royal Canin Canine Urinary S/O Moderate Calorie to your dog, please consult your veterinary surgeon.
Ingredients
COMPOSITION: rice, maize flour, dehydrated poultry protein, vegetable fibres, maizegluten, minerals, animal fats, hydrolysed animal proteins, chicory pulp, wheatgluten*, egg powder, soya oil, fish oil, fructo-oligo-saccharides, marigoldextract (source of lutein).
ADDITIVES (per kg): Nutritional additives: VitaminA: 15400 IU, Vitamin D3: 1400 IU, E1 (Iron): 46 mg, E2 (Iodine): 3.5 mg, E4(Copper): 10 mg, E5 (Manganese): 59 mg, E6 (Zinc): 194 mg, E8 (Selenium): 0.11mg - Preservatives - Antioxidants.
ANALYTICAL CONSTITUENTS: Protein: 20% - Fatcontent: 11% - Crude ash: 7.2% - Crude fibres: 6.1% - Sulphur: 0.21% - Calcium:0.57% - Phosphorus: 0.57% - Sodium: 1.2% - Potassium: 0.8% - Magnesium: 0.05% -Chloride: 2.15% - Urine acidifying substances: calcium sulphate (0.7%),DL-methionine. *L.I.P.: protein selected for its very high assimilation.
Warnings
Weight (kg)
Normal
Overweight
(g / day)
Cup / day
(g / day)
Cup / day
2 kg
48
5/8 cup
41
4/8 cup
4 kg
81
1 cup
68
7/8 cup
6 kg
110
1 + 3/8 cup
93
1 + 2/8 cup
8 kg
136
1 + 6/8 cup
115
1 + 4/8 cup
10 kg
161
2 + 1/8 cup
136
1 + 6/8 cup
15 kg
218
2 + 7/8 cup
184
2 + 3/8 cup
20 kg
271
3 + 4/8 cup
228
3 cup
25 kg
320
4 + 1/8 cup
270
3 + 4/8 cup
30 kg
367
4 + 6/8 cup
309
4 cup
35 kg
412
5 + 3/8 cup
347
4 + 4/8 cup
40 kg
456
6 cup
384
5 cup
50 kg
539
7 cup
454
5 + 7/8 cup
60 kg
618
8 cup
520
6 + 6/8 cup
70 kg
694
9 cup
584
7 + 5/8 cup
80 kg
767
10 cup
646
8 + 3/8 cup
Customer reviews
Product reviews are filtered by language.
The following reviews are available in English.
Royal Canin Canine Urinary S/O Moderate Calorie

excellent product, has prevented our dog from further urinary problems.

Royal canine urinary SO

I have found that since both my bitches have been put on this food I have had no problems with them getting urinary infections.

Royal canin canine urinary s/o moderate calorie

Excellent product, quick delivery

Perfect for Purpose

Following a problem with crystals blocking the bladder, our vet advised this food. At first, we worried that she might not take to it...but absolutely no hesitation. Never objects to it & no recurrence of issue so it certainly does the job for which it was designed.

Stops frequently for leaks

As my title states;my dog would do tiny wees every ten metres or so-I thought she was marking her walks!Recently she rubbed up against me n I felt a hard lump big around her belly.The Vet,after a Scan, said it was the worst case of Bladder Stones he'd ever seen & wanted to Operate immediately!The result was a kilo of stones of all sizes like he had gathered from the Beach! My dog has taken to this food even though it tastes very salty to me.This is to encourage drinking water to dilute the urine.This food is for the long term & better to have to prevent a reocurrance! I now have my old dog back full of life n walking with a spring in her step. I have had to reduce the recommended food intake by 30% as she was putting on weight.So far,so good and it's use is cheaper than another Op & the stress of a occurrence.