Skip to content
Skip to navigation menu
Royal Canin Canine Hypoallergenic Small Dog HDS 24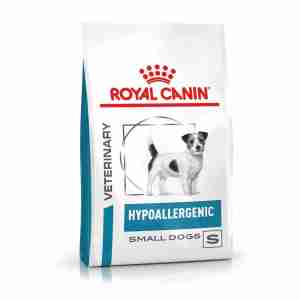 Rollover image to zoom
Product details
Royal Canin Canine Hypoallergenic Small Dog HDS 24 is a complete food for dogs under 10 kilograms that have food allergies or are prone to urinary tract diseases.
How it works
Royal Canin Canine Hypoallergenic Small Dog HDS 24 is developed to help eliminate ingredients that are likely to irritate your dog. This complete food uses highly digestible soy protein hydrolisate to reduce stress on your pet's stomach.
Healthy digestion is essential for dogs with intolerances. An allergy can compromise the immune system, dull the coat and irritate the skin. High digestion means your pet absorbs the maximum amount of nutrients from every mouthful, helping to restore the skin and coat.
If your dog is prone to struvite or calcium oxalate stones, Canine Hypoallergenic Small Dog HDS 24 can also help to reduce their recurrence.
Royal Canin Canine Hypoallergenic Small Dog HDS 24 improves the skin's effectiveness as a barrier to allergens with a combination of biotin, niacin and pantothenic acid. This is clinically proven to help reduce water loss through the skin and aid the function of the skin barrier.
Key benefits
developed using hydrolysed protein – a highly digestible, hypoallergenic ingredient

helps to lower the concentration of ions in the urine that can cause struvite and calcium oxalate stones

combination of nutrients aids the performance of the skin barrier

nutrients prevent tartar and support good dental health.
When to use it
If your dog has a food intolerance, they can be put off eating, become ill, and have their quality of life compromised. There are a few things you can look out for if you think your pet has an intolerance. Weight loss, vomiting or diarrhoea, itchy skin or a rash are all key signs of an allergy.
If you think your pet has an intolerance you should consult your vet immediately for a full examination. When intolerance occurs, you should switch your pet's food immediately to prevent the effects worsening.
Royal Canin Canine Hypoallergenic can replace your dog's regular food. Check the feeding guide to make sure you're feeding your pet the right amount for their height and weight.
Because veterinary diets are formulated for the nutritional support of pets with specific clinical conditions, we recommend that you only use them under professional advice. For more information on feeding Royal Canin Canine Hypoallergenic Small Dog HDS 24 to your dog, please consult your veterinary surgeon.
Customer reviews
Product reviews are filtered by language.
The following reviews are available in English.
Fast delivery time

This is one of the few sites where I can find this dog food. Decent prices.

Royal canin hypoallergenic small dog

Brilliant product, my chihuahua has ulcerative colitis, since starting on this, no problem

The best food for dogs with ibs

My Chihuahua has IBS and has 27 allergies. Since starting him on this food he has been fantastic and has only about 2 flare ups per year. He seems to love the food too. It has been like a miracle.

Tasty hypoallergenic dog food

My dog has had a lot of allergies, this food is hypoallergenic so easy to digest without causing upset. Its tasty and he always eats all of it, so it doesn't go to waste.

Great results

I was recommended this food by our vet a few times and finally decided to give this a go after exhausting all options of expensive medication and other foods and I can say since using this food all my dogs allergies have disappeared. This is cheapest price for this food I can find and you can get it delivered to your door. I would highly recommend this food if your vet has suggested it as its worked wonders for my little pooch who's been on it for months now and he's been itch and rash free for months. The food is small little biscuits which is ideal for little dogs and the zip lock bag is great for keeping it sealed.