Skip to content
Skip to navigation menu
You have setup the following Repeat Order: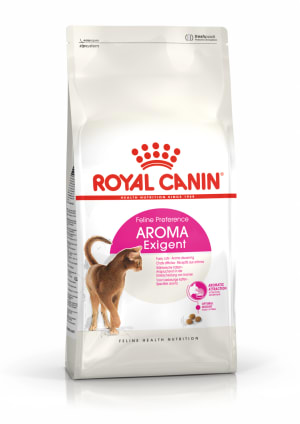 Royal Canin Aroma Exigent Adult Dry Cat Food
Product details
AWAITING REPLENISHMENT. ALTERNATIVES CLICK HERE
Royal Canin Feline Aroma Exigent is a complete and balanced feed for picky and fussy adult cats over the age of one.
How it works
Fussy cats often prefer different food aromas over others which may mean your pet will reject their food. Aroma Exigent has been specially developed for picky cats, having a slight fishy aroma that helps get even the most choosy of cat's taste buds going. This complete feed is made with a blend of nutrients, minerals and vitamins including beet pulp, soya oil and vegetable fibres, which help maintain your cat's overall good health. Dehydrated fish is included in this mix, giving the food the fishy aroma that cats love. Dehydrated fish is used to help keep the oil content of the food down. This way you don't need to compromise a great fishy taste for a low-in-oil food. High in protein, Aroma Exigent has an adapted energy content which helps keep your cat's weight at a healthy level, slowly releasing energy throughout the day. To ensure your pet's coat stays healthy and shiny, omega-3 and -6 and biotin have been included to nourish skin and hair cells from within.
Key benefits
specially formulated for picky cats that prefer a fishy scent to their food
a complete and balanced feed that helps your pet maintain a healthy weight
biotin and omega-3 and -6 to support a healthy and soft coat
suitable for cats between the age of one and seven
made with a specific aromatic profile to encourage fussy cats to eat their food
When to use it
Picky cats run the risk of missing out on a number of nutrients, minerals and vitamins that are vital for their health. If your pet tends to reject their food or only picks at it, providing them with a meal with a fishy scent can encourage them to eat. If you're concerned about your pet's eating habits, contact your vet.
Ingredients
Warnings
Some cats can have fussier appetites than others. If this is true of your cat, then it's important to select a food product that not only appeals to its natural preferences, but that also contains nutrients that will support its general health.
Royal Canin Aroma Exigent is specially formulated for adult cats, especially for fussier cats with all the nutritional needs of your cat kept in mind.
It has been specially adapted to stimulate your cats natural choice thought its unique aroma
To help your cat maintain an ideal weight, the energy content in Royal Canin Aroma Exigent has been specially adapted to allow for optimal bodyweight support.
This special blend also helps to support a healthy urinary system due to it high content of minerals and vitamins.
Product Benefits
Specially formulated with nutritional benefits for your cat
High protein level
Supports your cats urinary system
Helps to maintain an ideal weight
Feeding Guide
Customer reviews
Product reviews are filtered by language.
The following reviews are available in English.
Great for all cats

It is the only food wet or dry that will be eaten by any cat i have ever owned.My 4 cats all love this and I was delighted it arrived so quickly after I placed order

Great Quality Biscuits

Both my cats are fussy eaters, but they do seem to consistently enjoy these biscuits. I leave a bowl of these biscuits out all the time and it is a supplement to their wet food. My older cat has renal problems and will not touch renal wet food or renal dry food (I have tried all brands). At least these biscuits are good quality and I am happy he eats them as keeping weight up on cats with renal problems is essential.

Cats love it

I have three cats. One isn't bothered about dry food unless there is nothing else on offer. One will eat either but as her brother scoffs any wet food left unattended, she usually has to eat dry food or starve. Our youngest boy prefers the dry food and even when he was kitten would steal it!

Royal canin

Very good value for money for middle of the range could do with more offers on the 4 kilo bags as larger bags always get couple kilos free on selective ones

Grat for fussy felines

I buy a bag every 2 weeks for our 4 cats and they go mad when I open a new bag