Skip to content
Skip to navigation menu
You have setup the following Repeat Order: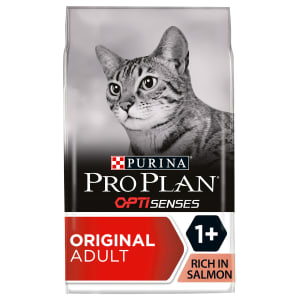 Purina Pro Plan Optisenses Original Adult Dry Cat Food - Salmon
Purina Pro Plan Optisenses Original Adult Dry Cat Food - Salmon
Product details
PURINA PRO PLAN Adult OPTISENSES Rich in Salmon is for the healthy maintenance of adult cats. The food combines all essential nutrients including vitamins A, C and E, omega 3 & 6 fatty acids, animo acids and proteins to provide a tasty and nutritional meal. OPTISENSES is the only Purina Optirange food that provides specific nourishment to your cat's brain.

Key features:
Healthy joints and good mobility due to a high level of protein which nourishes your cat's muscles and helps him stay a healthy weight and in lean condition.
Silky and glossy coat with omega 3 and 6 fatty acids and other essential nutrients – like vitamin E, zinc and copper - to nourish the skin and coat
B vitamins for neurodevelopment and cognitive function
Supports a healthy immune system through high levels of antioxidant vitamins, including vitamins C and E.
L-arginine for increasing blood flow to the brain
Helps protect teeth from plaque and tartar build-up due to a crunchy kibble texture and special minerals which are proven to significantly reduce tartar build-up.
Ingredients
Salmon (18%), Dehydrated Poultry Protein, Wheat, Rice, Maize Gluten Meal, Wheat Gluten Meal, Animal Fat, Dried Egg, Maize, Minerals, Dried Chicory Root, Cellulose, Digest, Yeasts, Fish Oil.
Analytical Constituents:
Protein:36%, Fat content:16%, Crude ash:7.5%, Crude fibres:2.5%,
Nutritional Additives: IU/kg:Vit A:37 000, Vit D3:1200, Vit E:670 mg/kg:Vit C:160, Ferrous sulphate monohydrate:(Fe: 81), Calcium iodate anhydrous:(I: 2.0), Cupric sulphate pentahydrate:(Cu: 12), Manganous sulphate monohydrate:(Mn: 38), Zinc sulphate monohydrate:(Zn: 130), Sodium selenite(Se: 0.12), Antioxidants.
Feeding Guide
Daily Feeding Recommendation (g/day):
| Cat Weight (kg) | Quantity (g) per day |
| --- | --- |
| 2-4 | 30-60 |
| 4-6 | 60-90 |
| 6-8 | 95-120 |
Feeding quantities required to maintain ideal body condition will vary, depending on age, activity and environment. Watch your cat's weight and adjust food amounts accordingly.
Clean, fresh drinking water should always be available. For your cat's health, consult your veterinarian regularly.
Customer reviews
Product reviews are filtered by language.
The following reviews are available in English.
Tiggy

Although my cat is an old lady, she adores her food. That makes me happy too.

Dry versus wet

My cats really seemed to enjoy the Purina Pro Plan dry food but they did not like the Royal Canin wet foods I bought at all which I thought might be good for them instead of their usual Felix. I will stick to the Felix from now on.

Noticeable health benefits!

ProPlanOptisenses is now my cats new favourite dry food, she thoroughly adores it, which is a big deal as she is a very fussy eater. With this, she loves it! No snobby character traits, no quarms, she eats all her food and begs for more afterwards. Within the first couple of weeks, I didn't really notice too much of a benefit apart her poo becoming a lot less smellier! Having now finished the 3kg bag, I can honestly say that I notice the health benefits. Meeko seems more chilled out and content as she hasn't been scratching the sofa whilst my partner and I are asleep. The other two big benefits are that her fur is noticeably softer and shinier all the time now, not just smoother when she decides to clean herself. Also, when Meeko goes for a poo in her litter tray, it doesn't smell anymore, compared to some really foul smelling ones on previous wet and dry foods. Rest assured, I won't be buying anything else from now on. Happy cat = Happy owner.

Noticeable health benefits

ProPlanOptisenses is now my cats new favourite dry food, she thoroughly adores it, which is a big deal as she is a very fussy eater. With this, she loves it! No snobby character traits, no quarms, she eats all her food and begs for more afterwards. Within the first couple of weeks, I didn't really notice too much of a benefit apart her poo becoming a lot less smellier! Having now finished the 3kg bag, I can honestly say that I notice the health benefits. Meeko seems more chilled out and content as she hasn't been scratching the sofa whilst my partner and I are asleep. The other two big benefits are that her fur is noticeably softer and shinier all the time now, not just smoother when she decides to clean herself. Also, when Meeko goes for a poo in her litter tray, it doesn't smell anymore, compared to some really foul smelling ones on previous wet and dry foods. Rest assured, I won't be buying anything else from now on. Happy cat = Happy owner.

Empty bowl says it all

My cat empty's her bowl, so have now had to leave a big bowl down for her as she absolutely loves it. She licks her lips once finished and even licks the bowl clean