Skip to content
Skip to navigation menu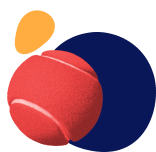 Search for food, toys, supplements, etc.
We've got everything you need for a healthy, enthusiastic cat or dog!
You have setup the following Repeat Order: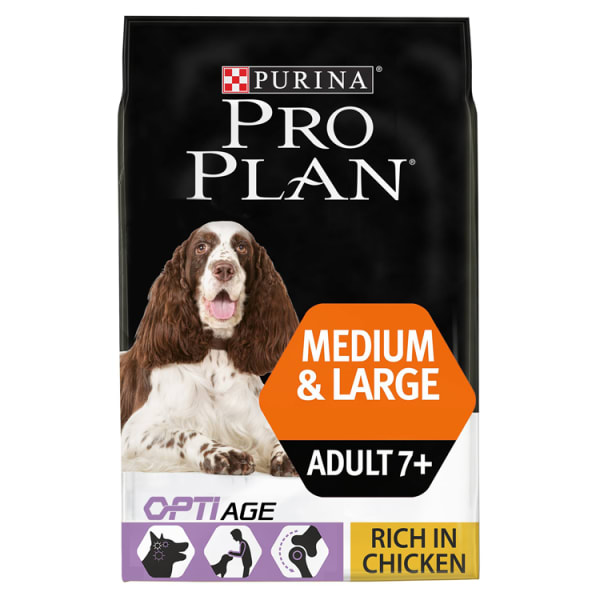 Purina Pro Plan Opti Age Medium & Large Adult 7+ Dry Dog Food - Chicken
Purina Pro Plan Opti Age Medium & Large Adult 7+ Dry Dog Food - Chicken
Purina Pro Plan Dog Medium & Large Adult 7+ with Optiage rich in Chicken dry food is a complete food tailored to meet the needs of dogs seven years and older. How it works Purina Pro Plan...
Read more
Purina Pro Plan Opti Age Medium & Large Adult 7+ Dry Dog Food - Chicken
Back in stock notification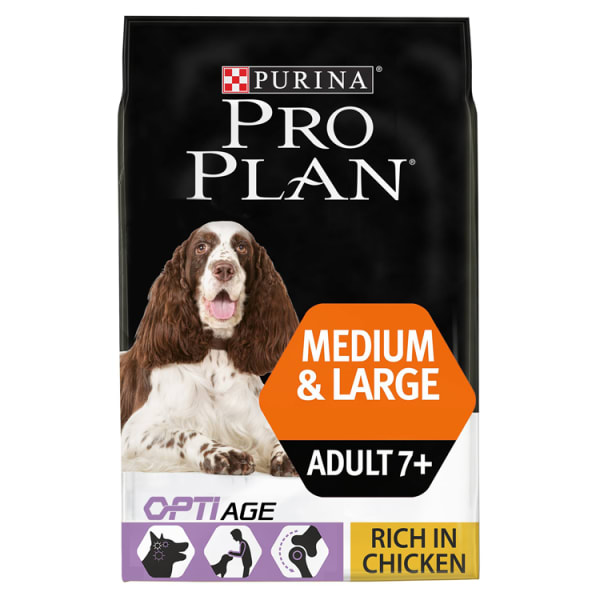 Purina Pro Plan Opti Age Medium & Large Adult 7+ Dry Dog Food - Chicken
Purina Pro Plan Opti Age Medium & Large Adult 7+ Dry Dog Food - Chicken
Enter your name and email address below then select which items you would like to be notified of when available.
Product details
Purina Pro Plan Dog Medium & Large Adult 7+ with Optiage rich in Chicken dry food is a complete food tailored to meet the needs of dogs seven years and older.
How it works
Purina Pro Plan Dog Optiage is made to meet the needs of ageing dogs. Developed by veterinarians, it's an enhanced formula that supports brain function, mobility and general wellbeing.This formula uses Purina Pro's Opting formula ' a complex balance of vitamins and nutrients clinically proven to improve your dog's brain function. As your pet ages, they may become slower and their attention span may suffer. This combination of essential nutrients can help to improve their concentration and intellectual capacity.As well as looking after their brain, this complete food takes care of your pet's joints, too. Years of running, jumping and playing can put pressure on your dog's bones; their joints can become sore and inflamed and their mobility suffers as a result. Enriched with fish oil, this dry food helps the joints keep working as they should, putting off mobility disorders and reducing inflammation.Made with quality chicken pieces, Purina Pro Optiage has a wholesome taste that's appealing to dogs. It's packed full of protein and nutrients to support your dog's wellbeing.
Key benefits
developed to suit the needs of medium and large dogs age seven and over
Optiage complex improves brain function, helping to keep your dog stimulated
contains essential nutrients and vitamins to support their general wellbeing
enriched with fish oil to preserve joints
made with quality pieces of chicken that are tasty and nutritious
kibble pieces are the perfect size for the jaw of a medium to large dog.
When to use it
As your dog gets older, they might need a little extra nutritional support. Though they may still be fit, giving them some added nutritional help can make sure they stay happy and healthy throughout old age.There are a few things you can look out for if you think your dog might benefit from nutritional support. Their attention span might not be what it once was, they could be becoming reluctant to play or their joints may seem stiff or sore.Purina Pro Plan Dog Optiage is designed to replace your dog's regular food. Check the feeding guidelines to make sure your pet is getting the right amount for their size and weight.

Ingredients
Ingredients: Dehydrated poultry protein, Wheat, Maize, Chicken (14%), Gluten, Soya meal, Vegetable oil fractions, Rice (4%), Dried beet pulp, Minerals, Maize grits, Animal fat, Digest, Fish oil.
Analytical Constituents: Protein: 29.0 %, Fat content: 15.0 %, Crude ash: 7.5 %, Crude fibres: 2.0 %
Nutritional additives: IU/kg: Vit. A: 20 000; Vit. D3: 650;Vit. E : 650;
mg/kg: Vit. C : 165; Ferrous sulphate monohydrate: 285; Calcium iodate anhydrous: 3.7; Cupric sulphate pentahydrate: 57; Manganous sulphate monohydrate: 135; Zinc sulphate monohydrate: 480; Sodium selenite: 0.33.
With antioxidants
Feeding Guide
| | | |
| --- | --- | --- |
| | <1h activity | 1 to 3h activity |
| 1-5 kg | 40-110 | 45-125 |
| 5-10 kg | 110-175 | 125-200 |
Clean, fresh water should be available at all times
Customer reviews
Product reviews are filtered by language.
The following reviews are available in English.
Great for my old dog

Both of my dogs loved this food, and they can be quite picky. I initially tried feeding it to only my 8 year old dog but the cheeky 3 year old ate some too. They both wolfed it down, which is great because they are not always too fussed about food. After a couple of weeks on this food my older dog did seem a bit more sprightly. I can't be sure if it was the food or not but he definitely seemed to have a bit more of a spring in his step. I will definitely look to buy some more of this for my older dog and see if there's an equivalent suitable for the 3 year old too.

Claws up to that!

If only dogs could talk! She couldn't wait to get into this. Normally my pooch would have a mix of dry and wet or have to have something added to encourage her to eat her to eat her food. Not with ProPlan OptiAge, she couldn't get it down quick enough. The large size bag option is great when you have a large dog so this is definitely a winner for me. The kibble is a nice size and didn't look/feel too dry or too moist. It certainly seems to be being enjoyed and a very clean bowl is being left behind. I think this will is a definite swap for us.

Amazing food amazing results

My dog is so fussy and suffers with allergies so finding a good food is very hard but this food is it my dog absolutely loves this food she eats it all and the difference in her has been outstanding over the moon with this food and is now going to be the only thing I feed my dog

Our dog loves it, and it smells yummy to me too!

We have a Labrador so there isn't much he doesn't eat. However sometimes his tummy doesn't deal so well with some products. That said we moved him straight over onto this food on a trial basis and he experienced no issues with his tummy at all. The food itself smelt yummy to me and the kibble looked great quality, better than what we currently get and better smelling too, and it appears on price comparison that these are the same price. Our dog couldn't wait to get in the bag and loves each meal, so overall 2 weeks in I'm impressed and considering moving him over to this food from the one he has been on. I would certainly recommend this product and advise you to give some serious thought about trying a Purina Pro Plan dog food for yourself, this is the second product from them I have tried and been impressed so far.

Great, my dog loves it

Just the smell coming from the bag when I opened it got my dogs attention, he was sniffing it loads and getting very excited so I quickly gave him a little bit to try and he loved it , he ate it all and wanted more lol. He's also just had it for his tea and ate it all again , he didn't want more as he was satisfied with the portion. I could see he was really enjoying it which for my dog is not a usual thing at the moment so trying this product came at the perfect time and I'm just so happy he's enjoying meal times again. The bag the food comes in is very good quality, i have the large bag and i can tell its going to keep its shape and not rip half way through it . Has helpfull feeding guide at the back. I highly recommend ,I guarantee you will buy it again.