Skip to content
Skip to navigation menu
Purina Pro Plan Adult Dog Light or Sterilised Chicken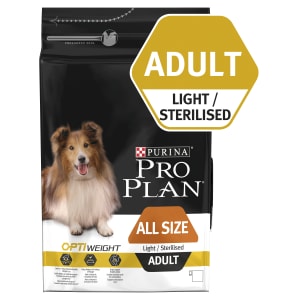 Product details
Purina Pro Plan Dog All Sizes Adult Light or Sterilised with Optiweight rich in Chicken dry food helps dogs maintain a healthy weight.
How it works
Designed by Purina's vets and nutritionists, this food can assist weight loss in overweight dogs and help dogs prone to weight gain (e.g. sterilised pets) maintain a healthy size.
The recipe is low in fat and high in protein, helping your dog to maintain lean muscle mass throughout a diet. The use of dietary fibre and complex carbohydrates keeps your dog feeling fuller for longer after eating. The food also contains Purina's Optiweight formula: a blend of vitamins, minerals and trace elements that ensure your dog is getting the nutrients they need. The formula promotes calorie burning and keeps joints healthy to make exercising easy. High-quality pieces of chicken are used for extra flavour, making meal times even more appealing.
Key benefits
Optiweight formula encourages healthy weight loss and weight maintenance
contains all the nutrients your dog needs for a healthy lifestyle
low fat and lower calorie
high protein to maintain lean muscle mass during weight loss
dietary fibre and complex carbohydrates create a feeling of fullness
promotes joint health to make exercise easier
high-quality pieces of chicken used in kibbles.
When to use it
Weight gain in dogs can lead to obesity ' a condition that can put stress on your pet's joints, shorten their lifespan and reduce their enjoyment of exercise and play. If you notice your dog gaining weight it's important to restrict their calorie intake before the problem becomes serious.The best way to find out if your dog is overweight is to take them to the vet for weighing and a body fat analysis. There are some quick tests you can do at home, too. The first is to look at them from above: their waist should be defined. Next, stroke them gently along their sides. You should be able to feel their ribs underneath a thin layer of fat. If your dog has no visible waist and you can't feel their ribs, they're overweight.
Although the main causes of weight gain in pets are too much food and not enough exercise, it can also be a symptom of deeper problems including hyperthyroidism, pancreatic cancer, and Cushing's disease. It's important to visit your vet to rule these out before starting your pet on a calorie-controlled diet.
Ingredients
Ingredients: Dehydrated poultry protein, Wheat, Maize, Chicken (14%), Dried beet pulp, Soya meal, Maize grits, Rice (4%), Gluten, Digest, Fish oil, Minerals, Animal fat.
Analytical Constituents: Protein: 27.0 %, Fat content: 9.0 %, Crude ash: 7.0 %, Crude fibres: 3.0 %
Nutritional additives: IU/kg: Vit. A: 25 000; Vit. D3: 810; Vit. E: 550; mg/kg: Vit. C : 120; Ferrous sulphate monohydrate: 247; Calcium iodate anhydrous: 3.2; Cupric sulphate pentahydrate: 49; Manganous sulphate monohydrate: 117; Zinc sulphate monohydrate: 417; Sodium selenite: 0.29. With antioxidants
Warnings
| | | | |
| --- | --- | --- | --- |
| | Maintenance | Sterilized | Weight loss |
| 1-10kg | 45-200 | 35-175 | 30-150 |
| 10-25kg | 200-370 | 175-320 | 150-275 |
| 25-35kg | 370-460 | 320-400 | 275-345 |
| 35-45kg | 460-545 | 400-475 | 345-410 |
| 45-70kg | 545-735 | 475-640 | 410-550 |
Clean, fresh water should be available at all times.
Customer reviews
We're sorry but there are no reviews of this product in English.