Skip to content
Skip to navigation menu
Protexin Pro-Kolin Plus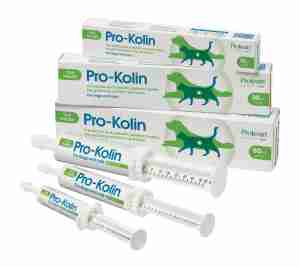 Protexin Pro-Kolin Plus is a supplement for cats or dog with digestive upset.
How it works
Protexin Pro-Kolin Plus is a supplement to help your cat maintain a healthy digestive system. It restores microflora and soothes the gut lining when your pet has an upset stomach. The paste contains artificial beef flavouring to make it taste appealing to cats or dog this makes it easier to administer to fussy eaters.
This supplement contains a complex mix of nutrients that help restore digestive balance. It contains probiotics to keep the rate of 'friendly' bacteria in your pet's gut high, which in turn helps to eliminate harmful bacteria that could be causing the upset. Preplex prebiotics feed this good bacteria and stimulate its growth.
When your cat has a digestive problem, their faeces can become soft and watery Protexin Pro-Kolin Plus contains kaolin, a natural binding agent, to help firm up their movements. Added pectin soothes the gut lining, which can become sore and inflamed with infection.
Key benefits
a supplement for cats with digestive upset
restores microflora
soothes gut lining
kaolin helps bind faeces
probiotics aid the growth of good bacteria
added pectin soothes the gut lining
beef flavour makes it taste good to cats
easy to administer syringes in two sizes - 15 millilitres and 30 millilitres.
When to use it
If your cat or dog has a digestive upset, it can make them very uncomfortable. Thankfully, it's easy to spot a digestive illness in pets. If you notice your cat is lethargic, is vomiting or is passing loose stools, it could be a sign of a digestive disorder. Take them to the vet as soon as possible for a full diagnosis.
Your vet might recommend giving your cat Protexin Pro-Kolin Plus to restore balance to their digestive system. In calibrated syringes, this paste is simple to administer. Simply feed your cat the paste for as long as your vet advises.
Customer reviews
Product reviews are filtered by language.
The following reviews are available in English.
Five Stars

Five stars for product and supplier. Always excellent customer service.

USEFUL

A useful item to have in for tummy upsets. Vets recommend Probiotics but theirs are more expensive and this syringe is easy to measure for spreading on food or squirting into the mouth.

Customer Service

This company never fails to give reliable delivery and I will continue to order from them

If your dog gets a dicky tum and get loose motions. Give this for a few days it wll soon put things right

PRO KOLIN paste in a measuring syringe

PROTEXIN PRO KOLIN PLUS

A good product to keep in stock. I have 2 dogs who sometimes have an upset tummy and my vet would always prescribe Protexin Pro Kolin. So rather than pay the vets prices, I checked on MedicAnimal and found it cheaper. No vets prescription required)