Skip to content
Skip to navigation menu
Protexin Pro-Kolin Enterogenic Sachets for Dogs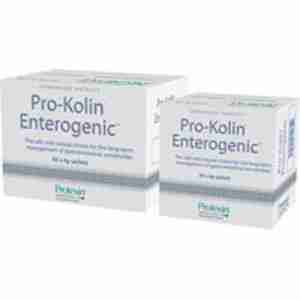 Product details

The safe and natural choice for the long term management of gastrointestinal sensitivities.

Protexin Pro-Kolin Enterogenic acts to reinforce the gut barrier, improve/assist the gut immune system and normalise the balance of the good and bad bacteria in the gut (known as the microflora). This helps to effectively manage long term gastrointestinal conditions, so that your pet can enjoy a happy, healthy life.

Pro-Kolin Enerogenic helps to manage long term gastointestinal sensitivities by:
Reducing bowel inflammation.
Repairing damaged intestinal tissue.
Providing and supporting the beneficial bacteria needed to restore gut health.

Pro-Kolin Enterogenic supports digestive health using naturally occurring active ingredients

Pro-Kolin Enterogenic can be recommended by your vet as a safe and natural alternative to regular treatment, or to complement standard therapies, helping to reduce their period of administration and the likelihood of recurrence of clinical signs.