Skip to content
Skip to navigation menu
You have setup the following Repeat Order: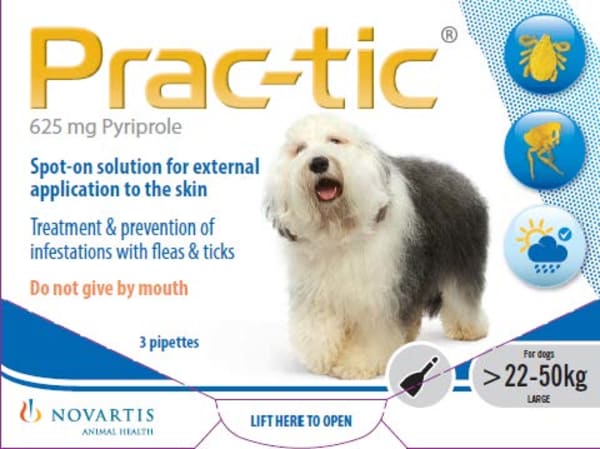 Prac-Tic Flea & Tick Treament for Large Dogs (22-50kg)
Prac-Tic Flea & Tick Treament for Large Dogs (22-50kg)
Prac-Tic Flea & Tick Treament for Large Dogs (22-50kg)
Back in stock notification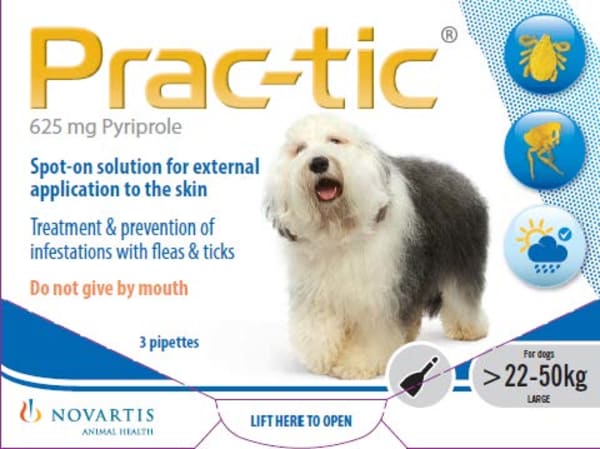 Prac-Tic Flea & Tick Treament for Large Dogs (22-50kg)
Prac-Tic Flea & Tick Treament for Large Dogs (22-50kg)
Enter your name and email address below then select which items you would like to be notified of when available.
Product details
Prac-tic Spot-On solution is specifically developed for the treatment and prevention of flea infestation (Ctenocephalides canis and C.felis), and is effective against new infestations with fleas for a minimum duration of 4 weeks.

It contains Pyriprole which kills fleas within 24 hours post exposure, and one application prevents flea infestation for 4 weeks, and can be used as part of a treatment strategy for the control of Flea Allergy Dermatitis (FAD).
Key Benefits:
Prac-tic provides a full month's tick and flea protection in each treatment
Prac-tic remains effective after walks in the rain, or swimming¹
Prac-tic remains effective, even after shampooing¹
Prac-tic ensures your dog is protected all month long, wherever they go, whatever they get up to!
Prac-tic kills 99% of ticks in 48 hours¹
Prac-tic kills 100% of fleas in 24 hours¹
Prac-tic Spot-On can be used on puppies from 8 weeks of age and weighing over 2kg.

Reference: 1. Schuele G et al. The effect of water and shampooing on the efficacy of a pyriprole 12.5% solution against brown dog tick (R.sanguineus) and cat flea (C.felis) infestations on dogs (2008) 151(2-4); 300-311. Dogs should not be bathed or shampooed 48 hours before treatment. Immersion of the animal in water or shampooing within 24 hours after treatment may reduce the efficacy of the veterinary medicinal product. However, weekly immersion in water did not affect efficacy against fleas and ticks. Veterinary Parasitology (2007) doi: 10.10.16/j.vetpar.2007.10.009.

Ingredients
1ml contains 125mg of Pyripole and 0.1 % Butylhydroxytoluene (E321).
Warnings
Do not use in dogs less than 8 weeks of age or with a body weight of less than 2 kg. Do not use in case of known hypersensitivity to phenylpyrazole class compounds or any of the excipients. Do not use on sick (e.g. systemic diseases, fever) animals or animals recovering from disease. This veterinary medicinal product is specifically developed for dogs. Do not use in cats, as this could lead to overdosing. Do not use in rabbits.



Dosage
Directions
Part the coat between the shoulder blades until the skin is visible. Place the tip of the spot-on pipette on the skin and squeeze gently to empty its contents onto the skin, preferably at two spots, one at the base of the skull and a second 2-3cm's further back.


Within each weight range the entire contents of the correct size pipette should be deposited on the dog's skin.
Weight (kg)
Product to be used
Frequency
2 - 4.5
Very small dog
Monthly
4.5 - 11
Small dog
Monthly
11 - 22
Medium dog
Monthly
22 - 50
Large dog
Monthly
For dogs over 50kg, use 0.1ml per kg of bodyweight. i.e 65kg would be 6.5ml.
Customer reviews
Product reviews are filtered by language.
The following reviews are available in English.
practic for ticks

Very easy to apply, dogs didn't notice! No smell, and ticks are dying. Lots of ticks round here. Previous treatment with Practic lasted about 5 weeks.