Skip to content
Skip to navigation menu
Pet Remedy Natural Diffuser Plug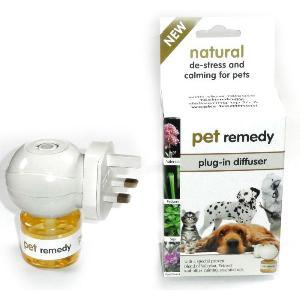 Product details
Pet Remedy Natural Diffuser Plug In is a new and natural way of tackling stress and anxiety using slow release technology. It contains a unique treatment of Valerian essential oil, blended with Vetivert, Basil Sweet and Sage. It is ideal for all pets including dog stress, cat stress, rodents, horses and all other mammals and birds.

Key Benefits:
Non sedating
Last up to 6 weeks
Covers up to 650 sq. ft
Suitable for a wide variety of animals
Customer reviews
Product reviews are filtered by language.
The following reviews are available in English.
Pet remedy

Gently diffuses into the air and helps with stress

Pet Remedy

The pet remedy natural diffuser plug ,is one of the best things l have brought for my dog. I've noticed a big difference in her since using pet remedy much more calmer , and not getting so stressed when there's thunderstorms around . Also l think it's working on me .

serenity

tsmelling it.his works. Have timid cat that would not go near a human. now still timid but will sit next to me when she eats and will cat nap next to me. She even sits next to diffuser

Pet remedy

Does work but please please make it smell better!!!

Pet remedy plug in diffuser

This is an excellent product.....I have tried felliway in the past but this supersedes any benefits it has. I adopted a 10 year old cat who was very nervous and this combined with my 15 year old resident cat made life very difficult as both cats were very wary and anxious around each other. Within a few days of using pet remedy they are "tolerating" each other...no fur has flown and they can be in the same room without any problems. The added benefit is I have slept better than I have in years as there is one in the bedroom and another in the sitting room.