Skip to content
Skip to navigation menu
Pawsley Laser Pen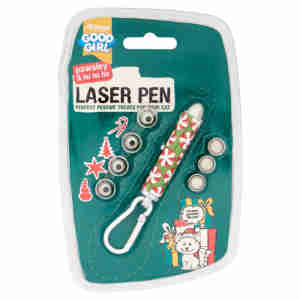 Rollover image to zoom
The Pawsely moving light laser pen is a Christmas toy specially designed for engaging hands-free twist to playtime with your cat.
How it works
Cats love being chased by the laser's light, as it stimulates their natural hunting instincts. This toy features a laser moving light which randomly shoots out beams for your cat to stalk, chase and pounce at. This toy switches itself off after five minutes, saving the battery and giving your cat a chance to rest after all that activity.
Key benefits
shoots out random laser beams for your cat to chase
encourages your pet to exercise and stimulates natural hunting instincts
has two fun settings
attached ring means you can hang toy up and leave your cat to play
switches off after five minutes
runs on 3 AAA batteries (not included)
When to use it
Cats are natural-born hunters, engaging in hunting behaviour up to 10 times every day on average. It is a good way to keep the cats muscles toned, encouraging their minds to stay sharp, while watching and waiting for prey. A laser toy like this one lets your cat unleash their inner hunter without harming any wildlife, or even leaving the house. An automatic toy is a good way to keep your cat occupied for a few minutes while you're busy, but isn't a substitute for proper pet-and-owner bonding time. Make sure your cat's toy box has plenty of physical goodies in it too, such as teaser toys, and set aside at least 15 minutes a day to play together.