Skip to content
Skip to navigation menu
Parsley Scratch Post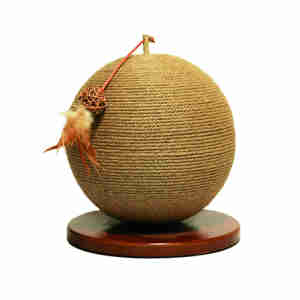 The Parsley cat scratching post gives your pet hours of entertainment even when you can't be at home.
How it works
With an unusual spherical shape, this Parsley cat scratching post brings a new dimension to playtime. The ball is covered in high-quality, natural jute that your cat will love to get their claws into. It's filled with catnip to tempt them to play (and draw their attention away from your furniture).
A sturdy wooden base gives the scratcher support so your cat can safely enjoy climbing and playing. It has a removable teaser with a feather and ball that your pet can play with alone, or you can remove the toy and encourage your cat to run and jump to chase it.
This cat scratcher measures just 33 centimetres by 30 centimetres, so it's unobtrusive. Its natural colours will also fit in effortlessly with your home décor.
Key benefits
cat scratching post
contains catnip to pique your pet's interest
removable teaser toy
sturdy wooden base for support
covered in natural jute your cat will love to scratch
measures 33 centimetres by 30 centimetres
When to use it
Keeping your cat from scratching the furniture isn't an easy task. When cats scratch, they leave behind a pheromone that makes them want to return to that spot again and again. Giving your cat a tempting surface to stick their claws into can help to deter them from scratching your home furnishings.
This jute ball includes catnip to tempt your pet away from the sofa. Make sure it's placed somewhere that your cat usually relaxes and encourage them to play with the teaser toy so that they get their scent on it.