Skip to content
Skip to navigation menu
PURINA PROPLAN VETERINARY DIETS Feline HA St/Ox Hypoallergenic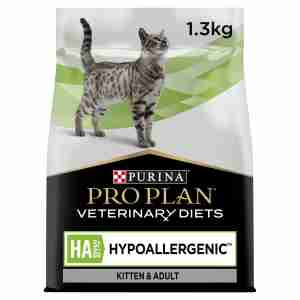 Rollover image to zoom
PURINA PROPLAN VETERINARY DIETS Feline HA St/Ox Hypoallergenic is a complete feed that can be used to manage or diagnose your cat's food allergies.
How it works
Some common cat food ingredients can inflame allergies and intolerances. This food is designed to be hypoallergenic and gentler on the immune system. Its protein and carbohydrates have been specially treated to reduce the chances of allergic reaction. The carbohydrates have been purified, while the protein has been broken down into tiny pieces (hydrolysed) which are too small to cause a reaction. The food is nutritionally complete and is intended to be your cat's only food source while they are on the diet.
Key benefits
nutritionally complete and contains everything your cat needs to stay healthy
can be used to diagnose or rule out food allergies
easy to digest so good for pets with serious bowel problems
contains hydrolysed protein and purified carbohydrates to reduce risk of reaction
tastes great: contains a hydrolysed palatability booster and high quality ingredients.
When to use it
Food allergies and intolerances in cats show themselves as skin and gastrointestinal problems. Symptoms can be excess scratching, hair loss, red and inflamed skin, vomiting, diarrhoea, and flatulence. Your cat may also have trouble breathing, so look out for coughing, wheezing and sneezing. Some of these symptoms are linked to more serious conditions, so it's important to visit your vet for a proper diagnosis.
If your cat does have an allergy or intolerance they'll need to remain on a hypoallergenic diet. The most common allergens for cats are beef, dairy and fish.
A hydrolysed diet, using food such as this, may be recommended to rule out food allergies. If the symptoms persist, a deeper issue may be the cause, so it's important not to supplement hypoallergenic meals with any other snacks, treats or cat foods.
Because veterinary diets are formulated for the nutritional support of pets with specific clinical conditions, we recommend that you only use them under professional advice. For more information on feeding PURINA PROPLAN VETERINARY DIETS Feline HA St/Ox Hypoallergenic to your cat, please consult your veterinary surgeon.
Feeding guide:
| | |
| --- | --- |
| Weight of cat (kg) | Quantity (grams) per day |
| 2 | 35 |
| 3 | 50 |
| 4 | 70 |
| 5 | 85 |
| >5 | + 15 g/kg |
The recommended period of use is 3 to 8 weeks. If signs of intolerance disappear, this feed can be used indefinitely. It is recommended that a veterinarian's opinion be sought before use or before extending the period of use and for kitten feeding guidelines. Water should always be available.
*Please note pack design has changed but the formulation is the same
Ingredients: Rice Starch 1, Hydrolysed Soya Protein 2, Soybean Oil, Minerals, Hydrolysed Digest 2, Animal Fat, Fish Oil, 1 Carbohydrate Source, 2 Protein Sources
Nutrition: Analytical Constituents, Protein: 35.5 %, Fat content: 10.0 %, Crude ash: 8.0 %, Crude fibres: 3.0 %, Essential fatty acids: 4.0 %, IU/kg: Vit A: 35 000, Vit D3: 1 100, Vit E: 650, mg/kg: Taurine: 1 500, Ferrous sulphate monohydrate: 290, Calcium iodate anhydrous: 3.7, Cupric sulphate pentahydrate: 58, Manganous sulphate monohydrate: 120, Zinc sulphate monohydrate: 490, Sodium selenite: 0.34
Customer reviews
Product reviews are filtered by language.
The following reviews are available in English.
PURINA HA

MY VET RECOMMENDED THIS PRODUCT TO TRY AND HELP MY ELDERLY CAT WITH POSSIBLE IBS OR PANCREATITIS.THE PRODUCT WAS HIGHLY APPRECIATD BY MY CAT WHO DOESNT SEEM TO BE ABLE TO GET ENOUGH OF IT. I HAVE ALSO TRIED IT AND IT IS VERY LIGHT AND HAS A WONDERFUL FLAVOUR.PETSUPERMARKET THANK YOU FOR THE PRICE AND FREE DELIVERY OF YOUR ITEMS OVER £19.00. I WILL USE YOU AGAIN AND THE DELIVERY WAS WITH ME WITHIN 2DAYS.

Purina HA

My Cats are very happy and well eating this food-unfortunately so are some of the neighbourhood cats........

Cat biscuits

Really good supply and had no problems with any order I have made a big thankyou for service

Products

Purina and Thrive products. Always pleased with the products and the excellent delivery service of Petsupermarket

Highly Recommended - really small kibbles and my fussy Siamese love it

My 8yo Siamese was diagnosed with Pancreatitis at the start of this year. For the previous 3-4 months he was being sick with his wet food and the vet said it was probably down to him having no teeth & only fangs and when the food was hitting his stomach, he was bringing it back up. Otherwise, he was absolutely fine and starving as soon as he had spewed the food up & which was whole. I was told to put him on sensitivity and gastro food but I also tried this this Hypoallergenic which basically is very gentle and not much in it - but he absolutely LOVE it. It is very very small kibbles which is great because he only has fangs and he literally woolfs it down - as does my other one & who is of good health. Since he has been on this, he has had no sickness whatsoever and no flare ups of the pancreatitis - so I would defo recommend this - especially if your cats are fussy, like mine. My neighbours old Persian who is skinny loves these small kibbles and makes noises scoffing it.