Skip to content
Skip to navigation menu
You have setup the following Repeat Order: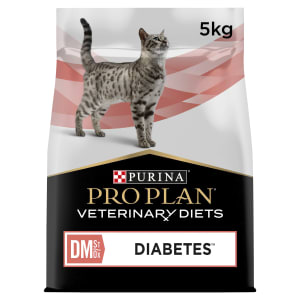 PURINA PROPLAN VETERINARY DIETS Feline DM St/Ox Diabetes Management
PURINA PROPLAN VETERINARY DIETS Feline DM St/Ox Diabetes Management
Product details
PURINA Proplan Veterinary Diets Feline DM St/Ox Diabetes Management is a complete food for cats with diabetes.
How it works
Purina Proplan Veterinary diets Feline DM uses a complex mix of ingredients to support cats with diabetes. It's formulated by vets and is low in carbohydrates to help regulate your pet's blood sugar levels.
A food that's low in carbohydrates helps felines suffering from diabetes by reducing the upsurge in blood glucose that happens after your pet finishes eating. This is balanced with high levels of protein that stimulate insulin to be release from the pancreas.
As well as helping to control your cat's blood sugar levels, this food has added vitamin E as a natural antioxidant. Antioxidants are especially important for diabetes sufferers as they help destroy free radicals that are produced with diabetes.
Key benefits
complete mix for cats with diabetes
low levels of carbohydrates help reduce blood sugar levels
high levels of protein stimulate release of insulin
added antioxidants protect from free radicals.
When to use it
Diabetes is a serious condition and needs to be treated with care ' thankfully, it's easy to control the illness with special medical treatment. There are lots of symptoms to look out for if you think your pet might be suffering from diabetes.
Increased thirst, increased appetite, sudden weight loss, going to the toilet more and acting unusually lethargic are all common symptoms. If you notice any combination of these you should seek veterinary advice as soon as possible.
Purina Proplan is a simple way to help control your cat's diabetes. It can replace their regular food for life. Ask your vet for advice before switching to this mix and follow the feeding advice for their age and weight.
Ingredients
Dry Ingredients: Dehydrated Poultry Protein, Maize Gluten Meal, Soya Protein Isolate, Maize Starch*, Animal Fat, Soya Meal*, Digest, Minerals, Yeast, Fish Oil, *Carbohydrate sources
Nutrition: Analytical Constituents Protein: 50.0 %, Fat content: 17.0 %,Crude ash: 8.0 %, Crude fibres: 1.5 %, Starch: 12.5 %, Total sugar: 0.8 %, Essential fatty acids: 2.0 %,Additives: Nutritional Additives IU/kg: Vit A: 30 000, Vit D3: 1 000, Vit E: 650, mg/kg: mg/kg: Taurine: 500, Fe(E1): 225, I(E2): 2.9, Cu(E4): 45, Mn(E5): 94, Zn(E6): 380, Se(E8): 0.26
Wet Ingredients: Meat and Animal Derivatives, Fish and Fish Derivatives, Derivatives of Vegetable Origin, Minerals, Carbohydrate Source: Corn Starch
Nutrition: Analytical Constituents, Moisture: 76.5%, Protein: 13.0%, Fat content: 5.5%, Crude ash: 2.2%, Crude fibres: 0.9%, Starch: 0.4%, Total sugar: <0.5%, Taurine: 1 350 mg/kg, Energy value: 0.99 kcal/g, Additives: Nutritional Additives IU/kg: Vit A: 1 200, Vit D3: 160, Vit E: 180, mg/kg: E1: 34.4, E2: 0.66, E4: 4.2, E5: 6.1, E6: 83.8, E8: 0.05
Customer reviews
Product reviews are filtered by language.
The following reviews are available in English.
Purina Diabetes Management dry food

Tyson loves it! As soon as I open the airtight box in which I store the product, my cat stretches up and tries to steal the biscuits before I get the chance to put them in his dish!

The cats and dogs love it!

We have used Purina Diabetes management for years for our diabetic cat. The other cats in the neighbourhood used to come through the cat flap to steal it before we got the dogs as it is so tasty. Pet Supermarket sell it much cheaper than the vets and are very efficient supplying it. Now we have to stop the dogs from stealing it! It has controlled my cats diabetes for years.

Diabetic cat

We have used medicanimal for many years to supply diabetic food for our cat and their service has always been excellent

Nutrition value

My diabetic cat enjoys these dry food biscuits. I feel that he needs the high protein nutrition, a good product.

Diabetic Cat

Bought because cat is diabetic, however eats these just like normal cat biscuits. Price is very competitive and delivery times are very good.