Skip to content
Skip to navigation menu
You have setup the following Repeat Order: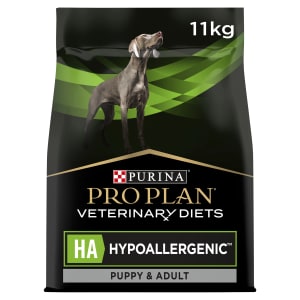 PURINA PROPLAN VETERINARY DIETS Canine HA Hypoallergenic
PURINA PROPLAN VETERINARY DIETS Canine HA Hypoallergenic
Product details
Purina Proplan Veterinary Diets Canine HA Hypoallergenic is carefully formulated to help you diagnose and manage most food allergies your dog could be suffering from.
How it works
Proteins and carbohydrates, like chicken and wheat, can sometimes cause allergies in your dog. This food is hypoallergenic and hydrolysed, which means the proteins and carbohydrate sources have been broken down and purified to prevent allergic reactions. This allows you to use it as a base for an elimination diet to find out which food group your dog has an intolerance to.
Fatty acids are also included in the form of omega-3 and omega-6, which boost your dog's natural allergy defence. Natural ingredients including fish oil, soya protein, and coconut oil provide all the nutrition your dog needs while reducing the risk of a reaction.
Key benefits
proteins are broken down into tiny components which won't cause allergic reactions in your dog
carbohydrates are purified to prevent allergic reactions
fatty acids give your dog additional protection against inflammation
formulated to be suitable for both adult dogs and puppies.
When to use it
Food allergies could affect your dog regardless of size or breed, although they usually develop in dogs under three years old. An allergy happens when your dog's immune system over-reacts to something in their diet. The most common cause tends to be proteins such as dairy, beef, chicken, and corn. These same proteins are also very common in normal dog foods. Symptoms of an allergic reaction can include itchy skin around the face, ears, feet, and forelegs, and general skin infections. A food allergy can be hard to pinpoint however, and your vet could recommend a dietary trial, or 'elimination diet'.
Using a food like Purina ProPlan Veterinary Diets Canine HA Hypoallergenic won't provoke any allergic responses, so is often a good place to start. That said, this food is also a great choice if your dog suffers from digestive problems, as the formula is very sensitive on your dog's stomach.
Because veterinary diets are formulated for the nutritional support of pets with specific clinical conditions, we recommend that you only use them under professional advice. For more information on feeding Purina ProPlan Veterinary Diets Canine HA Hypoallergenic to your dog, please consult your veterinary surgeon.
Ingredients
Composition:
Maize Starch*, Hydrolysed Soya Protein**, Minerals, Coconut Oil, Sugar*, Rapeseed Oil, Soya Oil, Fish Oil, *Purified Carbohydrate Sources, **Protein Source.
Analytical Constituents:
Protein: 21.0%, Fat content: 10.0%, Crude ash: 5.5%, Crude fibres: 2.0%, Carbohydrates: 54.0%, Omega 3 fatty acids: 0.5%, Omega 6 fatty acids: 1.8%, EPA and DHA: 0.15%, Medium chain fatty acids: 1.3%, Additives: Nutritional Additives IU/kg: Vit A: 30 000, Vit D3: 1000, Vit E: 350, mg/kg: Ferrous sulphate monohydrate: 245, Calcium iodate anhydrous: 3.2, Cupric sulphate pentahydrate: 50, Manganous sulphate monohydrate: 100, Zinc sulphate monohydrate: 420, Sodium selenite: 0.29.
Feeding Guide
Recommended quantity/day:
| Weight (kg) | g / day |
| --- | --- |
| 2.5 | 75 |
| 5 | 120 |
| 10 | 190 |
| 15 | 250 |
| 25 | 350 |
| 35 | 440 |
| 45 | 520 |
| 70 | 700 |
This feeding program is recommended as a guideline only, with optional adjustments for proper weight maintenance.
Always make sure that your dog has access to plenty of water.
Customer reviews
Product reviews are filtered by language.
The following reviews are available in English.
Purina Pro-Plan

Absolutely marvelous, both my dogs simply love it. I highly recommend it.

Purina hypoallergenic for older dogs

A1 delivery seems to help our little Maisey Cornnbread a old chiwawa she did not have the best start in life but she is lovely .Food suits her very well.

Seems to be working

Purina HA was suggested by our vet due to ongoing bowel problems with my Golden Retrievers, one loves it the other one seemed to have difficulty eating it and was having to be hand fed piece by piece as he would not go near the dish, after a couple of days we tried soaking it with hot water, did the trick now he loves mealtimes again and the food. After being on the food for less than a week it seems to be working for both of them, fingers crossed it carries on.

Good Item, Good Price

Having been ordering this via our vet , I was very pleased to buy it at this price. Ordering was easy and delivery fast. I will use again

Purine diet veterinary dog food

This is an excellent food for my dog Jess. She really likes it and she is now nearly 11 years old and gets skin allergies now and again.