Skip to content
Skip to navigation menu
Oxbow Alfalfa Hay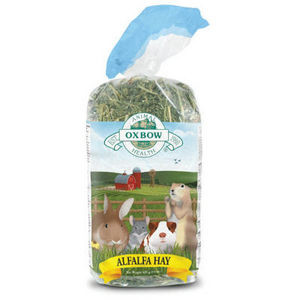 Product details
Oxbow Alfalfa Hay is a nutritious mix suitable for young small animals and those that are ill or lactating.
How it works
Alfalfa is a legume forage hay that is rich in nutrition. It differs from grass hays in the leaf, stem and root structure. Because of this difference the protein, calcium and energy content are higher in alfalfa than in grass hays. Therefore, this hay provides extra nutrution for young animals, or those that are a little under the weather.
Key benefits
concentrated nutrition
suitable for animals needing more nutrition than normal
preservative and additive free
When to use it
Due to the nutritional content of this hay, it is best for young animals or those that are ill. Once recovered, your furry friend should return to a balancedl grass hay. Oxbow Alfalfa Hay should be mixed with grass hay and it should only be used on mature animals sporadically.
Customer reviews
Product reviews are filtered by language.
The following reviews are available in English.
Reasonable

I buy this for my junior rabbit as they need more feeding. It's of varying quality but on the whole its the best I have found at a reasonable price. I won't be feeding it much longer and will buy Timothy hay.

As my bunny was on a bit of a diet I was informed to give my bunny more hay & alfalfa however too much alfalfa can give your bunny 'sludge' urine that is like chalk and can have blood spots in as alfalfa is higher in calcium than other hay. I stick to Timothy Hay now which suits her better. She loves alfalfa and I'm sure that for the majority of small pets alfalfa suits them just fine, I'm not posting this to slate alfalfa just passing on info I didnt have x

The last three bags I bought have been nothing but dust..expensive dust too! I used to buy this hay and it used to be good quality,but I won't be buying it again.

I buy this for my very fussy rabbit who won't eat any hay but this one. Funnily enough, unlike some of the other reviews, he loves the green 'dust' more than the hay stalks themselves so we are quite happy.

My rescue lion -head rabbit loves this (he had to have his front teeth removed),I give a little pinch to my guinea-pigs as a treat .Its ideal for baby rabbits & lactating females .