Skip to content
Skip to navigation menu
Otodex Ear Drops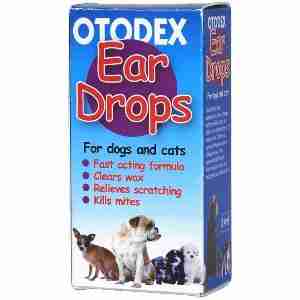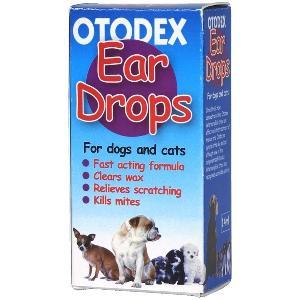 Product details
OTODEX VETERINARY EAR DROPS are a fast acting formula to clear wax, relieve scratching and kill ear mites in dogs and cats.

OTODEX VETERINARY EAR DROPS contain a wax solvent to remove wax, fungicides and bactericides, including an anti-bacterial which is particularly useful against common and difficult-to-treat bacterium in chronic ear cases; a mild analgesic to relieve pain and an emollient to moisturise the skin.

Symptoms of ear diseases:
Shaking of the head persistently for a few moments due to irritations in the ear, such as the presence of parasites, wax or inflammation. Excessive wax in the ear often leads to infection later. Scratching of ears is a symptom of ear mites.
Dosage
Squeeze 3 or 4 drops into the affected ear once a day holding the animals head still for a few moments to ensure thorough penetration of the solution. Repeat daily until the condition clears usually 4-5 days. If necessary, continue use to clear any waxy debris. After healing has taken place, check ears at regular intervals for any signs of reinfection and treat as necessary.
Customer reviews
Product reviews are filtered by language.
The following reviews are available in English.
Great value

Otodex Ear Drops are an effective and fast treatment for cats and dogs who are prone to ear infections which cause irritation and discomfort.

Effective

I have been using these drops for many years and have recommended them to many people, I don't think you can beat them keep dogs ears in nice healthy clean condition.

Great

Have used these drops on several of my dogs over the years . Never failed yet to sort out ear infections. Excellent.

Stops odour

I use this product for my dogs ears once a week which prevents odours. I was happy with the quick delivery and happy with these ear drops.

Ear drops

After unexpected delay in delivery drops arrived after phone call .