Skip to content
Skip to navigation menu
Otodex Ear Drops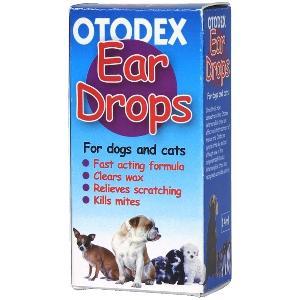 Product details
OTODEX VETERINARY EAR DROPS are a fast acting formula to clear wax, relieve scratching and kill ear mites in dogs and cats.

OTODEX VETERINARY EAR DROPS contain a wax solvent to remove wax, fungicides and bactericides, including an anti-bacterial which is particularly useful against common and difficult-to-treat bacterium in chronic ear cases; a mild analgesic to relieve pain and an emollient to moisturise the skin.

Symptoms of ear diseases:
Shaking of the head persistently for a few moments due to irritations in the ear, such as the presence of parasites, wax or inflammation. Excessive wax in the ear often leads to infection later. Scratching of ears is a symptom of ear mites.
Dosage
Squeeze 3 or 4 drops into the affected ear once a day holding the animals head still for a few moments to ensure thorough penetration of the solution. Repeat daily until the condition clears usually 4-5 days. If necessary, continue use to clear any waxy debris. After healing has taken place, check ears at regular intervals for any signs of reinfection and treat as necessary.
Customer reviews
Product reviews are filtered by language.
The following reviews are available in English.
Ear drops

Great price fast delivery and well packaged

ear wax drops.

this stuff really clean my dogs ears and there very clean now well worth buying even got a spare one as well.

Cleared up ear mites within 3 days

Not too long ago my poor elderly cat became miserable with ear mites very suddenly. She was constantly wobbling her head and mewing in pain while she scratched her ears. Since she sees the vet quite enough already, I thought I'd save her a traumatising vet visit and buy these online. I did phone my vet first and she OK'd the ingredients - please be safe and do this with any new treatment you try on your pets as you never know what weird and deadly drug interaction you've never heard of. I put three drops in each ear once a day, then went back and cleaned her ears with a damn cotton swab

VERY PLEASED

It is the first time I have used the drops on my cat and is very pleased with the result :-)

Great value

Otodex Ear Drops are an effective and fast treatment for cats and dogs who are prone to ear infections which cause irritation and discomfort.