Skip to content
Skip to navigation menu
O Tom Tick Remover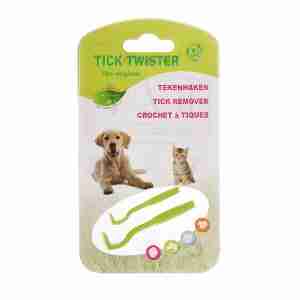 O Tom Tick Remover kit.

Key Benefits:
It doesn't leave the tick's rostrum in the skin.
It doesn't squeeze the tick's abdomen.
It removes ticks of any size.
It removes ticks from animals and people.
It doesn't need any chemical products (alcohol, ether,...).
It enables a quick and painless tick removal.
It is unbreakable, hardwearing and indefinitely reusable
Vet's Advice:
What are ticks?
Ticks are small, light grey, rounded insects which feed from the blood of animals. They vary in size and when engorged, can reach the size of a pea. They can be found anywhere on the dog's body but are most frequently found on the ears, face or abdomen where hair cover is relatively thin.
Ticks will only feed at certain times of their life. Peak activity is between the months of March to June and from August to November. Most of their life cycle is spent outside in areas of long grasslands and moorland but they can also survive in cracks and crevices in the walls and floors of kennels.

Customer reviews
Product reviews are filtered by language.
The following reviews are available in English.
tom tick remover

as seen on websight. havent used it yet hope I never have to

Great little tool

This is a very handy tool to have to hand, I recommend this

Tick Remover

Works well to remove ticks for cats too! My two young cats keep coming into contact with a feral cat and although they have regular flea/tick treatment, I've had to use this on occasion. This is so much easier and safer than tweezers, I remove the whole tick without leaving anything nasty behind. A must for petowners.

Excellent product

The O Tom Tick Remover is the easiest tick removing tool I have used. It is able to remove the whole tick without discomfort to the dog in a matter of seconds. I highly recommend this tool.

Everyone who has pets in rural places needs these.

I have not used these yet but bought them having watched a vet's video where he was removing ticks, with great ease, using one. It was not an advertising site just an informative one. Having seen a cat infested with ticks and which later died, I bought them just in case. I have a feral cat that we inherited when we bought our house and although she is not happy being picked up (hence visits to the vet would be emergency only) she lets me pet me her all over and I reckon I could use this tick remover to get rid of any that may attach themselves. Anyone who uses them should watch an online video of how to use it before use.