Skip to content
Skip to navigation menu
Nutri Plus Gel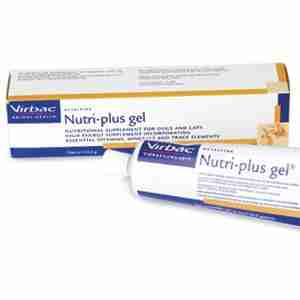 Keep your pet in the peak of health with Nutri-Plus Gel, a nutritional supplement packed with essential vitamins and minerals.
How it works
Nutri-Plus Gel is a nutritional supplement for both dogs and cats that's packed with all the essentials they need. It contains vitamins A, D and E for supple skin and a shiny coat, as well as calcium and magnesium for strong bones and plenty of energy.
Key benefits
packed with vitamins and minerals for all-round health
tasty flavour that cats and dogs will love
can be given alone or with food
especially suited to pregnant and lactating animals, as well as those recovering from surgery
available in a 120.5-gram tube
When to use it
Your pet will have different needs depending on the stage of life they're at. Young puppies and kittens require a high-protein diet to help keep them active and support their growth, while older dogs and cats might need a little more rest and relaxation as they enter their later years. You can make sure your pet is always feeling their best with an all-round supplement like this one.
If your pet is recovering from surgery or feeling a bit under the weather, try them with some Nutri-Plus Gel. They'll absolutely love the flavour so you don't have to worry about trying to disguise it. You can feed this gel directly from your hand, or mix in with their regular food if necessary. It's also suitable for pregnant and lactating animals, as well as young pets that are growing at a rapid rate.
The recommended dose is one to two teaspoons per five kilograms of bodyweight each day.
Customer reviews
Product reviews are filtered by language.
The following reviews are available in English.
Good for ferrets too

I use this as a treat for my ferrets but it is also useful for mixing crushed steroid tablets with to give to my poorly ferret

Great product

My ferret can do anything for this gel. She loves it very much. I use it as a treat or reward.

This product is useful for bitches in whelp or geriatric patients in need of a little extra support without the need to bulk out on lots of food. It is useful for a dog or a cat recovering from illness and needs to regain its strength. If your pet isnt eating too well then give this a go. (it helps to put a little dab of the gel on the dog or cats paws to encourage them to clean themselves OR just simply put some on your finger to lick off!) I keep some in the cupboard all the time for "just in case"!!