Skip to content
Skip to navigation menu
Nullodor Colour Cat Litter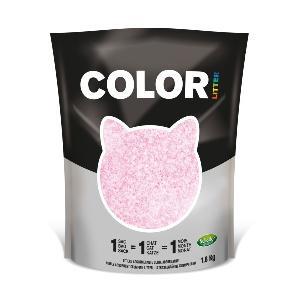 Product details
NULLODOR Color is a unique, innovative cat litter that perfectly combines the advantages of silica litter and clumping cat litter. It isn't just the functionality that is unique, but also the fact that it is available in different colours, to turn every litter tray into a decorative feature.
NULLODOR Color's very fine, sandy litter grains make going to the toilet comfortable for your cat, and gentle on its paws. The 200% absorption rate of the litter means that your cat's litter tray stays clean and hygienic, and it absorbs liquid excrement just as well. Bacteria formation is noticeably reduced. The clumps that are formed when the litter comes into contact with liquid can be easily removed. Thanks to NULLODOR Color Cat Litter's unique texture, it also binds odours and neutralises them.
Key Benefits:

Clumping cat litter with Silica

Combines the advantages of clumping and silica litter

Unique design - in different colours, to make your cat's litter tray into a decorative accessory

Over 200% absorption: For perfect absorption of urine and liquid excrement

Clumping: To make cleaning easy, and maintain hygiene

Excellent odour binding: Quickly binds and neutralises unpleasant smells

Very fine grains: Soft on cat's paw and comfortable on the skin

Clean and hygienic: Minimises bacteria build-up

Coloured with food colouring: Harmless for cats
Customer reviews
Product reviews are filtered by language.
The following reviews are available in English.
the best

great cat litter.shame its not in bigger bags as this small bag just lasts me for 2 weeks making it a bit expensive.

great cat litter

really great cat litter, but certainly does not last 1 bag, for 1 month, for 1 cat I have one small Burmese cat I would like to buy bigger bags

best cat litter

we have used this for past 2 yrs for our 2 cats..so.much better than the rest..no smell..easy to clean last at least a month..and cheaper than the rest

Great litter.

Really great litter, much better than all other litter types I've tried in the past. It masks smells almost completely and is easy to clean, also lasts ages even with 2 Cats sharing one tray. My only gripe is that it tends to stick to Cats paws/fur and makes a mess when they exit the tray. Much cheaper on pet supermarket than pet stores which is fab, however I was disappointed to open the box to find one of the bags I had been sent damaged and had a slit in which someone had tried to tape over resulting in a lot of litter lost in the bottom of the box which is a shame as not excellent service.

Great

Never use another product again I love this cat litter!! No smell long lasting