Skip to content
Skip to navigation menu
Non Pull Harness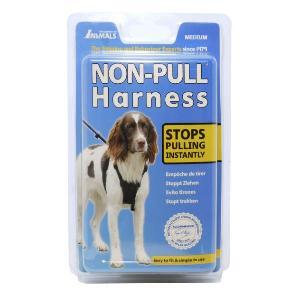 Product details
The Non-Pull Harness is an easy, safe solution for dogs who pull on the lead.
How it works
Designed to be used with a short lead, this non-pull harness works on the basis of 'squeeze and lift'. By tightening gently and safely under your dog's legs when they pull on the lead, the harness discourages pulling without causing discomfort. The patented elastic mesh on the chest pad allows comfortable freedom of movement while retaining your control over your dog, while the padded Sherpa wool sleeves prevent rubbing.
To fit the harness, just lift it over your pet's head and help them step through the loops before adjusting the shoulder straps and fastening the security lock for the most comfortable fit.
Key features
easy to fit and use
patented elastic mesh stretches with your dog's body
keeps dog handlers in control
designed to be used with a short lead
adjustable shoulder straps and sliding fastener
comfortable fabric Sherpa sleeves prevent rubbing
When to use it
The non-pull harness is ideal for dogs who pull excessively when out on the lead, which can be damaging to pets whose leads attach to their collars. It's gentler than many other methods too, and is designed to teach your dog lead manners without restricting their freedom of movement.
It's important that your dog has a well-fitting harness – make sure to measure your pet's chest before purchase. Bigger dogs like Akitas or Rottweilers will need the Large (55 to 80 centimetre chest) harness to be comfortable, while medium breeds like cocker spaniels or Border collies usually require medium (45 to 60 centimetres). Small or toy breeds like pugs or Pomeranians will need the small harness (33 to 45 centimetres).
Size Guide
| | | |
| --- | --- | --- |
| Size | Neck Measurement (where the collar would sit) | Typical Breed |
| Small | 20 - 30 cm | Daschund, Cavalier King Charles Spaniel |
| Medium | 30 - 43 cm | Beagle, Cocker Spaniel, Pointer |
| Large | 43 - 60 cm | Bernese MD, Bull Mastiff, Rottwieller |
Customer reviews
Product reviews are filtered by language.
The following reviews are available in English.
No pull harness

Harness fits well. My dog is comfortable wearing it. No pulling

Definitely stops pulling

This harness was great, our hard pulling Collie stopped pulling instantly, a real relief for both of us.!However, after a while of off-leash running about she came back without the harness! So it lasted not even one walk even though it was put on correctly and not loose on her. Great harness, but I recommend taking it off before letting the dog run free.

Fits our Rottweiler comfortable - she sits patiently while it is put on. Seems to be good for her

Our Golden Retriever has pulled so hard it has bruised my feet and hurt my lower back. I hadn't thought about a harness before and its only when he developed a sore on his neck I tried it. From day one I have a different dog! I can actually walk rather than having an exhaustive battle. He seems so much more relaxed. Great product.

Used this harness for my three cairn terriers, it did not stop pulling at all but I used them correctly fit for three months as I felt they were more secure than simply using just a collar and lead. However, the cord is already wearing and, more disturbingly, I've just noticed that on two of my wee dogs the metal plate has caught their coat leaving the area completely bald. Stopped using the harness and awaiting a response from pet-supermarket.