Skip to content
Skip to navigation menu
You have setup the following Repeat Order: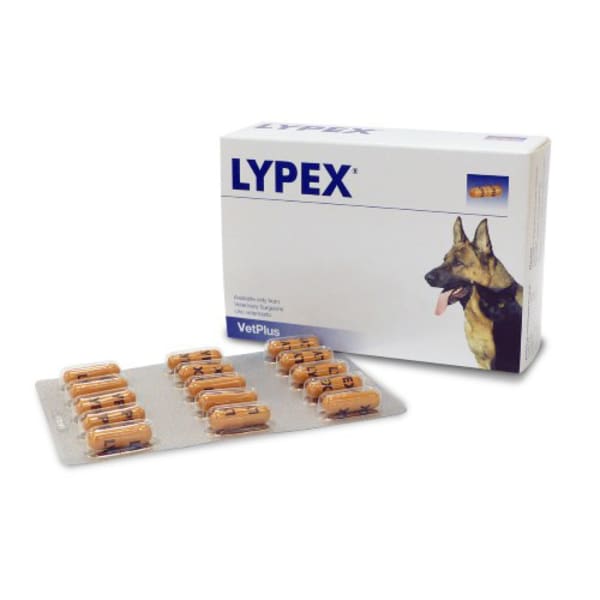 Lypex Capsules for Dog & Cat
Lypex Capsules for Dog & Cat
Lypex Capsules for Dog & Cat
Back in stock notification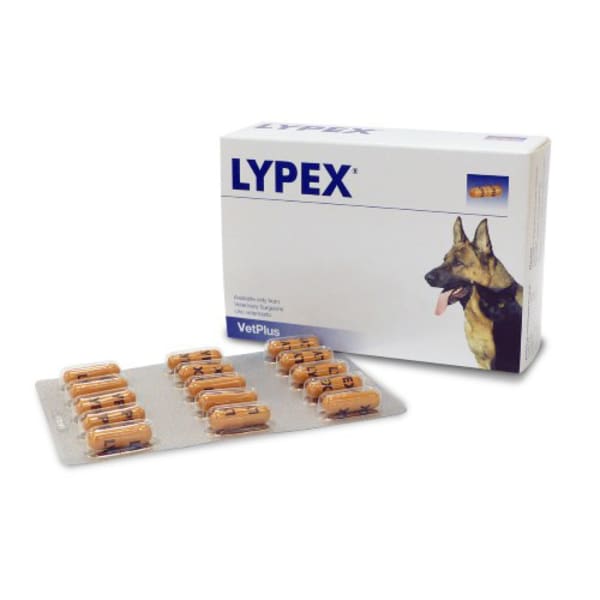 Lypex Capsules for Dog & Cat
Lypex Capsules for Dog & Cat
Enter your name and email address below then select which items you would like to be notified of when available.
Product details
Lypex Capsules are a pancreatic supplement for dogs.
How it works
Lypex Capsules are a pancreatic enzyme supplement that can be used to treat multiple disorders in dogs. The supplement is ideal for the management of exocrine pancreatic insufficiency, irritable bowel syndrome and bile salt deficiencies. These capsules have an enteric coating to protect them from stomach acid when ingested by your pet so that the active enzyme has a chance to reach their intestine where it can do good.
Key benefits
A pancreatic supplement for dogs with exocrine pancreatic insufficiency
Enteric coating protects from stomach acid
Capsules should be opened and sprinkled over food.
When to use it
Exocrine pancreatic insufficiency is a condition where your dog's pancreas fails to produce the necessary digestive enzymes to digest and absorb nutrients such as fats, carbohydrates and proteins from food. If your dog has a lack of digestive enzymes (or exocrine pancreatic insufficiency), it can have an affect on their gastrointestinal system as well as take its toll on their general health and wellbeing. Symptoms include weight loss and chronic diarrhoea.
Maldigestion stops your dog from being able to absorb the nutrients they need from their food, which can lead to malnutrition. Lypex Capsules help your dog's digestive system function at full capacity.
You should only use these capsules after a full diagnosis and recommendation from your vet. The capsules should be opened and sprinkled on top of your dog's food, twice daily for as long as the vet recommends. Follow the guidelines for your pet's height and weight. If you notice any adverse side effects, stop the course immediately and seek veterinary advice.
Customer reviews
Product reviews are filtered by language.
The following reviews are available in English.
Lypex changed My dog's life

Good price - far cheaper than from vet. She is 8 so will probably be on for life - excellent delivery system. Very prompt.

Lypex

Lypex is saving my dogs life. So expensive. Don't know how I afford it. Delivery service excellent.

Lypex

My rough collie was very malnourished due to severe sickness and dihorea and had lost 3.5 kg he has been on lypex for 4 moths and has regained all the weight he lost and some. He is fit and healthy and I would highly recommend this product

My GSH/Bearded Collie came to us at a year old from the RSPCA with a cronic bowel problem. She is now 12 years old & full of health but we darenot take her off Lypex as there would be disaterous results.!!! Cow Pats everywhere! Thanks to Lypex those days are over.

I have been using Lypex for about 2 months now with fantastic results. My Border Terrier was loosing weight & showing clinical signs of pancreas problems so our vet put him on Lypex, and he hasnt looked back he has gained 2kg in weight & he is now back to his normal very cheeky self.Thank You Lypex.