Skip to content
Skip to navigation menu
Kong Classic Red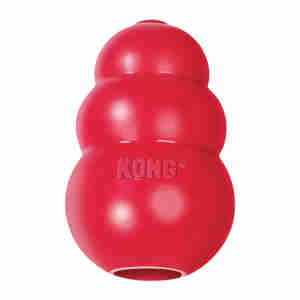 Rollover image to zoom
Product details
Let your dog chew to their heart's content with the Kong original toy in classic red.
How it works
This favourite Kong chew toy will keep your dog's teeth and gums in great shape. Recommended by vets and animal behaviourists, it satisfies your dog's natural urge to chew everything in sight. It's highly elastic, with a stacked sphere shape, so it can withstand plenty of gnawing. It even bounces on flat surfaces, so your dog will have lots of fun chasing and fetching it. Chews like this are designed with dogs in mind and are much safer than real bones, which can splinter and get lodged in your dog's digestive system.
Key benefits
made from chewable natural rubber
elastic and durable for lasting play
hollow and can be filled with treats
freezable for hot days
bounces for games of chase and fetch
When to use it
This versatile chew toy is perfect for games of chase and fetch. You can even leave your dog to chew away at it while you're out of the house. All dogs benefit from chewing and plenty of exercise to keep their muscles supple and their energy levels satisfied. Bored dogs end up chewing furniture and shoes if they don't have something to distract them. This toy can be filled with treats or Kong stuff 'n' paste to encourage your dog to get stuck in. It can even be frozen in warm weather to keep your dog cool as they play.
Big dog breeds like German shepherds and Rottweilers have powerful jaws that require regular exercise to keep them in great shape. Chew toys like this are ideal for exercising their jaw muscles and keeping their teeth healthy, sharp and strong.
Customer reviews
Product reviews are filtered by language.
The following reviews are available in English.
Great fun.

Our Lab adores her Kong, even when empty, she chases it around as it bounces all over the place.

My lab loves it. Even when it filled with treats and it bounces everywhere

My dog dug his unused Kong out of his toy basket and brought it to me, demanding it to be refilled. Since then we have been using it for meals every day and a few treats. He gets very, very excited to play with it. It keeps him busy for a little while, he gets to play, gets his food and it slows his

My dog adores this kong, he pushes it around and bounces it, he even recognizes the word kong!Best toy out there for dogs, and completely erradicates seperation anxiety! Life saver!

What a fantastic product! I have two border collies who have bags of energy and even they are kept occupied by their kong toys! The kong toy is durable and hard wearing, toys rarely last long in our house but over a year later this is still going! They are easily washable, and can be filled with all sorts from biscuits and peanut butter to vegetables and dog food! They can also be frozen to make a cold treat, perfect for the summer! Can't recommend this product enough! Happy dogs and owners all round!