Skip to content
Skip to navigation menu
You have setup the following Repeat Order: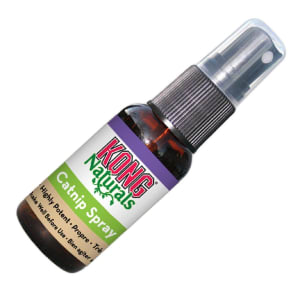 Kong Cat Naturals Premium Catnip Spray
Product details
Tempt your cat to play with Kong Cat Naturals premium catnip.
How it works
This all-natural green, leafy catnip is grown in North America for maximum potency and freshness. It's irresistible to cats, with its strong scent and heady effect.
In a leaf-and-flower cut with minimal stems and seeds it's packed with the essential oils that cats love. Stored in a handy resealable container, this catnip can be kept fresh in a cool, dry place for several months.
Key benefits
all-natural catnip
grown in North America
potent and fresh for maximum effect
can be applied to toys and scratching posts
resealable container for freshness
ecologically responsible for peace of mind
When to use it
Catnip is a natural herb from the mint family that drives cats wild. It has an effect similar to alcohol for humans, making cats feel warm and fuzzy. Cats seek it out in the wild, so this product is perfect for kickstarting your cat's natural instincts.
You can sprinkle this catnip over your cat's favourite toys and their scratching post to encourage them to play. When your cat comes into contact with it, you might see them rub up against the scented item, attempt to chew it or fall into a trance-like state for several moments. After about ten minutes, they should calm down and may even fall asleep.
Catnip is totally safe for cats, though it can very occasionally provoke an adverse reaction. Your cat might vomit or suffer with diarrhoea, though these symptoms won't last long. Make sure you put down plenty of drinking water and give your cat a break from the catnip to let them recover.