Skip to content
Skip to navigation menu
Kokoba Transport Crate Fly Kit - IATA Approved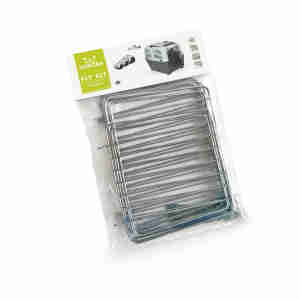 Rollover image to zoom
Product details
The Kokoba transport crate fly kit is an add-on to ensure your Kokoba Transport Crate is compliant with the additional regulations of some airlines.
How it works
These three metal grids snap onto your Kokoba Transport Crate to comply with strict airline guidelines. Although the Kokoba crate is already approved by the International Air Transport Association (IATA), some airlines have their own additional regulations for transporting live animals. We recommend reading their rules and regulations before heading to the airport to avoid disappointment. If you're planning to travel often by air with your four-legged-friend, this kit will mean you'll always be prepared.
Key benefits
package contains three metal grids
IATA approved
fits the Kokoba Transport Crate
grids comply with most airlines' additional requirements for the carriage of live animals.
When to use it
If you and your pet are travelling by air you might need to add these grids to your IATA approved travel crate. Make sure that they're fitted properly to avoid any disappointment at the airport. Note that animals can become stressed when they travel, especially if they've not flown before. Different airlines have different policies: some allow pets in the cabin, others put them in the hold, and others send them as cargo. We recommend checking this before booking so that you're comfortable with the way your pal will travel.
You can make flying easier on them by booking non-stop, direct flights where possible. If your pet is travelling in the hold, early morning and late evening flights are best in terms of temperature. It's also worth considering whether or not to sedate your pet: speak to your vet for their advice, and find out if the airline needs any additional information from you based on this.