Skip to content
Skip to navigation menu
Kokoba Small Cat Scratching Tree with Pad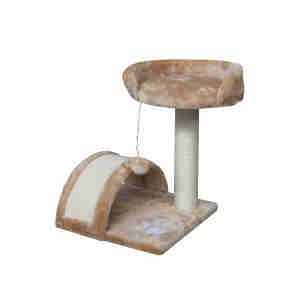 Rollover image to zoom
The Kokoba Small Cat Scratching Tree with Padnis designed just for your kitten, and features a small den, scratching post and platform for sleep and play.
How it works
This Scratching Post features everything your adventurous and inquisitive kitten could ask for. The scratching post is wrapped in natural sisal, which is long-lasting, durable and highly resistant – well-suited for clawing.
The archway is the perfect hideaway for your kitten during play and provides a safe place for a cat nap. The padded platform that sits on top of the post gives your pet a commanding view of their surroundings. Every cat loves to have a place from which to survey their territory, no matter how old.
Key benefits
natural sisal scratching areas
promotes stretching
comfy bed platform
arch doubles as scratch surface and hideaway
45cm post is just the right size for your kitten
easy to assemble and move.
When to use it
Your kitten will naturally want to scratch anything they can get their claws into, so placing a Wicky Scratching Post in your home is a good way to keep them clear of any delicate fabrics or furniture.
Scratching is more than just an enjoyable exercise for your pet: it promotes flexible, strong muscles and healthy claws, so is important for a growing kitten. It's also a stress reliever and leaves your cat's sent to mark their territory, signalling to intruders that this is their space. Cats often want to scratch after sleeping; with a handy platform and hideaway, this scratching post has it all.
Generally, scratching and clawing is common behaviour, but if you're concerned your kitten might be scratching too much, seek advice from your vet.
| | | | |
| --- | --- | --- | --- |
| Pole Diameter | Depth | Width | Height |
| 7 cm | 35 cm | 35 cm | 45cm |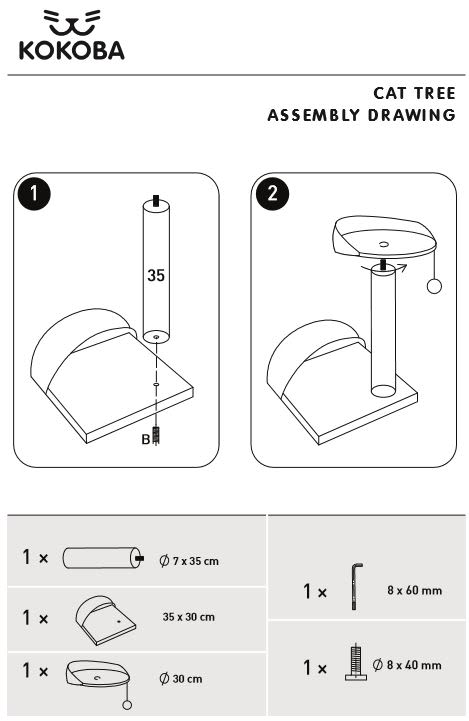 Customer reviews
We're sorry but there are no reviews of this product in English.