Skip to content
Skip to navigation menu
Kokoba Small Cat Scratching Tree with Dangle Toy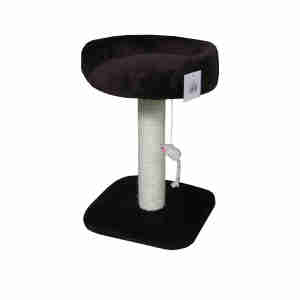 Rollover image to zoom
Product details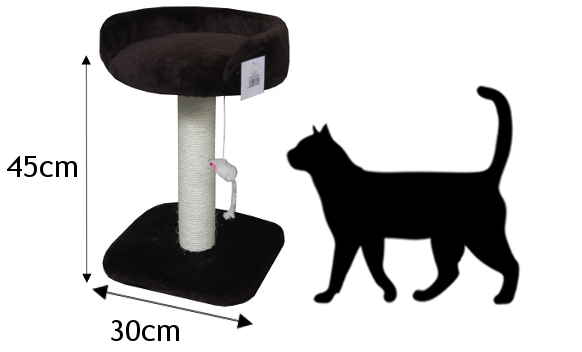 The Kokoba Small Cat Scratching Tree with Dangle Toy combines a comfy bed with a scratching post, while its hanging toys are certain to become your cat's favourites at playtime.
How it works
Your kitty will love getting their claws into the durable, resistant sisal that covers this scratching post. Cats often scratch after sleeping – the raised bed with plush cushion provides them with a comfortable spot to do both.
A sturdy wood base with plastic feet means no matter how enthusiastically your cat scratches or plays, the Natural Home I Cat Tree will stay in place. The compact size also makes it ideal for smaller cats or kittens.
Key features
tough sisal scratching post
one plush toys with a bell
raised bed
plush cushion
promotes healthy claws
great for small cats or kittens.

When to use it
Cats scratch to mark their territory –wherever they scratch should feel comfortable and safe for them. The Kokoba Small Cat Scratching Tree with Dangle Toy gives them everything they need in one place, including a bed.
Scratching is part of your cat's exercise, as stretching while scratching helps to keep their muscles supple and healthy. As it's an important part of their routine, if you don't provide somewhere for your pet to claw, they'll probably find something in your home to scratch instead.
Clawing is one way your cat works off stress, so it's just as important for their mental well-being. Excessive scratching can also be a sign of stress, however, so always speak to your vet about your cat's habits and behaviour if you're ever in any doubt.
Size Guide
| | | | |
| --- | --- | --- | --- |
| Pole Diameter | Depth | Width | Height |
| 7 cm | 30 cm | 30 cm | 45cm |