Skip to content
Skip to navigation menu
Kokoba Silicate Cat Litter for Odour Control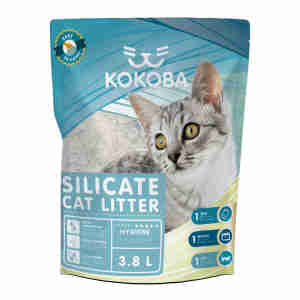 Rollover image to zoom
Product details
Kokoba Silicate Cat Litter is highly absorbent and hygienic, keeping your cat's litter tray clean and odour-free.

How it works

This litter has been specially formulated to be super absorbent and long-lasting & one bag per cat should last up to a month. Any odours from your cat's urine are eliminated thanks to the sponge-like silicon crystals.

Litter can easily get caught on your pet's paws and carried around the home. This litter is both non-sticky and very fine, so your cat won't pick it up by accident. It's also environmentally friendly and made from totally natural minerals.

Key features

natural silicon crystals are highly absorbent
eliminates odour
won't stick to your cat's paws
all natural
long-lasting
hygienic.
When to use it

Depending on where you live and how old you cat is, it might not be advisable or possible for your feline to pop outside when they need the toilet. Litter trays are ideal for this situation; your cat will quickly learn where they need to go.
One of the potential problems with keeping a litter tray in your home is the smell. Kokoba Silicate Cat Litter stops odours from spreading thanks to its absorbent crystals. If your cat does spend a lot of time inside, then they'll be using the tray quite often. This means you'll want to use litter that isn't easily picked up and spread around your home by accident, so the finer the litter the better.
While this kind of litter will last for up to month in the tray, it is advisable to clean it out as often as is necessary. Always ask your vet if you need advice on your cat's litter tray habits and best hygiene practices.
Customer reviews
Product reviews are filtered by language.
The following reviews are available in English.
This is the best Cat Litter

I have been using this for a few weeks now and I swear by it! It eliminates all kinds of odors and doesnt go everywhere when my cat uses it! Easy to clean up after as well For my cat it will last a week but she only uses the cat litter and doesnt go outside, so if your cat does then I can imagine this lasting longer than a week. I keep buying in a multi pack and dont think I will be buying anything else! It is brilliant!

Great cat litter

Love this as its very absorbent and most importantly my cat doesn't cough when she goes in her tray as its not dusty at all.

Brilliant litter at great price

This silica litter is half the price of my former brand, and is exactly the same for the same weight. My cat doesn't notice any difference. Both happy.

excellent littere

this works out cheaper as you use less brilliant product would definetely recommend to all you cat lovers

Wonderful litter good switch.

I switch to this from Catsan, I'm glad I did. I have two cats and using catsan I had to clean every 4 days. This litter not so much, I do top up when they have done there business. The cats have seems to taken to the litter, kind to there paws. The litter is true to the description.