Skip to content
Skip to navigation menu
Kokoba Set of 4 Wheels for Transport Crate - IATA Approved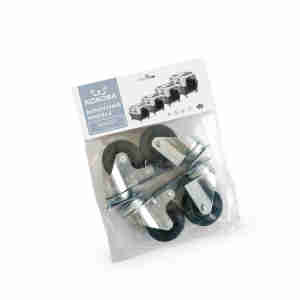 Rollover image to zoom
Product details
Add these four IATA approved wheels to your Kokoba travel crate to make journeys with your pet easier.
How it works
These wheels snap onto the Kokoba Travel Crate, making it easy to wheel your dog or cat around when it's time to go off on a trip. Like the crate itself, this add-on is approved by the International Air Transport Association (IATA) so they're safe for bringing your pet on board an aeroplane. You don't need any tools to install the four wheels, as they simply clip on. The set includes two rear wheels, which are fixed in place, and two directional front wheels. These also have a locking mechanism to prevent your pet's cage from rolling.
Key benefits
IATA approved
compatible with Kokoba Travel Crate (sold separately)
no tools required for installation
kit includes four wheels: two directional front wheels with locking mechanism and two fixed rear wheels
made from metal.
When to use it
Even if your furry friend is fairly small and light, carrying their sturdy crate around can be a real arm-ache. Adding wheels to the bottom makes it easy to bring your four-legged pal anywhere with you. Whether you're taking them down the driveway to your car or pulling them through a bustling airport, it takes a lot of strain off and makes the ride a lot smoother for your buddy. These wheels are IATA approved, meaning it's generally safe to put them on crates for air travel.
Remember to get your pal used to their crate beforehand by introducing them to it a week or two before. Putting a blanket or a toy inside can comfort your pet, as it'll remind them of home.