Skip to content
Skip to navigation menu
Kokoba Premium Cat Tower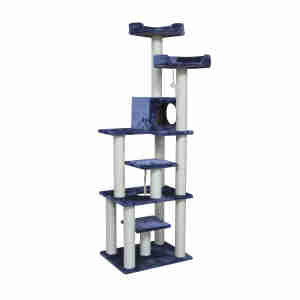 Rollover image to zoom
Product details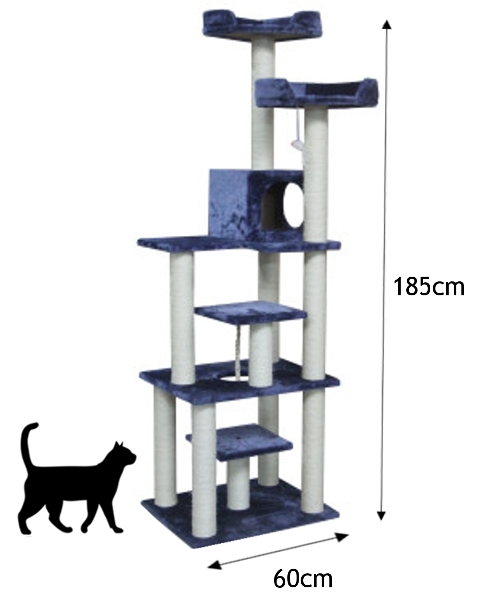 If you're looking for a scratching post with plenty of stimulation for your feline friends, the Kokoba Large Scratching Tree could be the answer. It has everything your cats could desire, from multiple platforms to cosy dens.

How it works

The Kokoba Large Scratching Tree has numerous platforms, levels and places to sleep; any cat is bound to love exploring it.

There are two dens for sleeping and scratch posts on every level, with cushioned raised platforms for cats that like to keep an eye on things while they relax. The size of this tree makes it a good choice if you have a number of cats at home, as they will all have the space they need to play.

Key features
high sisal posts are durable and encourage play
raised platforms with edges for sleeping
two cosy dens
solid base
easy to assemble
When to use it

Encouraging your cats to scratch something other than your furniture can be tricky – that's where the Kokoba large scratching tree comes in.
Cats scratch to mark their territory just as much as they do to sharpen their claws, so if you have a number of cats at home, it's important that they all have their own little spot. A cat tree this size offers a variety of sleeping, playing and scratching areas, which means they won't crowd each other. It can also encourage playful interaction.
Try placing your tree in your cats' favourite place in your home, as they will be more likely to take to it. If any of your pets are scratching more than usual, or you simply need advice on how to get the most from a cat tree, speak to your vet for more information.
Size Guide
| | | | |
| --- | --- | --- | --- |
| Pole Diameter | Depth | Width | Height |
| 9 cm | 60 cm | 50 cm | 185cm |
Additional Information
Customer reviews
Product reviews are filtered by language.
The following reviews are available in English.
Fantastic!

This is a fantastic activity centre, my cats love it. My little cat spends a lot of time indoors and she loves to climb and scratch this. It is very tall but really sturdy and both cats can climb and play on it at the same time. It's also a nice colour. This is definitely worth the money.

Love it!

Total cat entertainment system! All six of my cats love this, I'm highly entertained by their antics on it! :-D My 3 legged cat throws herself up it and now only seems to come down to eat and litter, she loves it on the 2nd highest bed and enjoys surveying her territory. Also good head-butting height up there. Easy to assemble, nice and sturdy, love the blue. Highly recommended!!

Top Cat

I love this product, it's very stylish, tall and a beautiful blue colour, as previously stated the underside wood can been seen on the higher levels, rectified by paint or material if you wish. Screw heads can be seen on the material,but as I'm only 5 ft tall I can only see four, the screws themselves being bronze/gold in colour. The scratch posts are a good length for adult cats and the levels are perfect for them to keep an eye on their environment. Cats are fussy by nature, mine loves the front room window, I've moved the cat tree to the conservatory as it was a little overwhelming in my living room. He does use it now and again and likes to sit and sleep on the higher levels. I have encouraged him to use it by spraying Catnip on all levels. Other cats have wandered in and used it, I found a small female cat sleeping in the nest/ box, really cute.

Strong High Tower blue and beige

Cat Tower was bought for my cat because he knocked an ornament in front of the TV over plus I thought it would do him good exercise as he's an indoor cat. Although it's by the window and to the left of the TV he doesn't use it much. I put a sheet on the step which is on the same step as the cube and let it hang down so it creates some privacy but I've still got to tame him with the ham that he eats to use the tower more. He does like to climb from a small cabinet to the window sill to the cat tower. He only goes to the two very high ones if I put the ham there. The tower is very strong though, the instructions were clear took a 2 to 3 hours to make, easy to assemble. Although he's an adult cat he was a bit scared on the top one but some practice with the pieces of ham and he should over come that fear.

Highly Recommended

Would definitely recommend this product for your little ball of fur! Really Easy to assemble and very sturdy when built. Pros Looks Great Great variety of platform Very tall which my kitten loves and the top tier is high enough that S/He is not disturbed Box is also nice and cosy Height if the actual scratching posts are superb and will help cats of all sizes Cons Toy mouse fell off in the first hour I have attached a couple of my own toys to the underside of the top two levels using some elastic Make sure you tighten the screws properly as they do seem to loosen over time As the top two levels are so high, you can see the wood underneath both of them. I got some similar material and used a staple gun to cover the underside. Looks much nicer. Overall a fantastic item. Would've given 5 stars if the mouse hadn't fallen off and the undersides of the top two levels were covered in material.