Skip to content
Skip to navigation menu
Kokoba Pet Water Fountain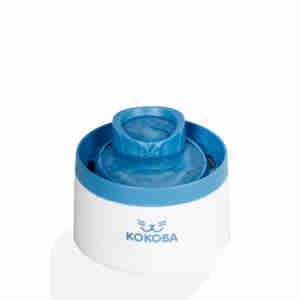 Rollover image to zoom
Product details
This Kokoba water fountain is a powered continuous filtration fountain that provides a constant source of clean running water for your cat.
How it works
Like humans, pets need to stay well hydrated for their own health, but some cats will often refuse to drink water from a bowl. This instinct dates back to their big cat ancestry, when drinking from rivers was safer than from still ponds. However, if your cat doesn't get enough fresh water, it could result in kidney damage.
Continuous drinking fountains provide a great source of running water for modern cats, encouraging them to drink as much as they need. The filtration process ensures a constant supply of clean drinking water for your pet, better oxygenated for a fresher taste. Simply change the included carbon filters when necessary.
Key features
continuous water circulation and filtration
oxygenating process for pure, refreshing water taste
replaceable carbon filter cartridge
reduces risk of kidney and urinary infections
low-voltage power supply
recommended by vets
When to use it
Hydration is important for all cats, helping to maintain healthy kidneys and reduce the risk of urinary disease. If you notice that your cat sometimes rejects bowl water, or habitually drinks from dripping taps or trickling rainwater, they may benefit from a water fountain. Providing this clean source of running water will encourage your cat to stay hydrated.
Many vets recommend the use of water fountains for all cats. More sensitive cats, such as those who are a bit older, may especially need the extra support that a fountain can provide.
Talk to your vet about water fountains at your cat's next check-up, and always consult a professional if you're concerned about your pet's hydration levels.
Customer reviews
Product reviews are filtered by language.
The following reviews are available in English.
Great value for money

Easy to assemble. Does get noisy when the water level drops. . Which is a good reminder to replace water . Comes with a cable protector/tube, which i decided not to use.

Kokoba Water Fountain

After 3 weeks both our 7-year old cats are using it - a success.

Excellent Water Fountain

My cat does not like change & I wondered if he would use this when we bought it. He took to it right away & when I put his usual water dish beside it, he ignored it and used the fountain instead. It doesn't make any noise & is a perfect size. My partner also pointed out that the spare piece of pipe that comes with it is a shroud that goes over the wire, to protect the wire & stop your pet from chewing it.

Kokoba animal water fountain

It is a good product but my cats are not interested. If having a young cat maybe they would use it.

Kokoba Water Fountain

Like has already been said, quiet but active water fountain which my cats ignored for a few days, now are regularly drinking from it. Very good for the hot weather situation at the moment. There is a groove on the inside which tells you the maximum water level but you have to take the top off to look for this. I too was left with an additional bit of pipe that I couldn't work out where it was to be used. The only negative is you cannot plug in from the back of the dish, it connects at the plug part, which would be useful to quickly take it apart to clean it, however just a small niggle. Happy with purchase & good value.