Skip to content
Skip to navigation menu
Kokoba Pet Water Fountain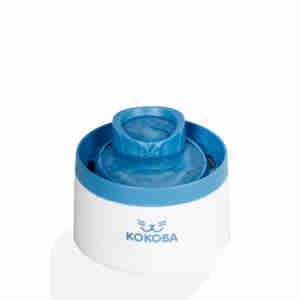 Rollover image to zoom
This Kokoba water fountain is a powered continuous filtration fountain that provides a constant source of clean running water for your cat.
How it works
Like humans, pets need to stay well hydrated for their own health, but some cats will often refuse to drink water from a bowl. This instinct dates back to their big cat ancestry, when drinking from rivers was safer than from still ponds. However, if your cat doesn't get enough fresh water, it could result in kidney damage.
Continuous drinking fountains provide a great source of running water for modern cats, encouraging them to drink as much as they need. The filtration process ensures a constant supply of clean drinking water for your pet, better oxygenated for a fresher taste. Simply change the included carbon filters when necessary.
Key features
continuous water circulation and filtration
oxygenating process for pure, refreshing water taste
replaceable carbon filter cartridge
reduces risk of kidney and urinary infections
low-voltage power supply
recommended by vets
When to use it
Hydration is important for all cats, helping to maintain healthy kidneys and reduce the risk of urinary disease. If you notice that your cat sometimes rejects bowl water, or habitually drinks from dripping taps or trickling rainwater, they may benefit from a water fountain. Providing this clean source of running water will encourage your cat to stay hydrated.
Many vets recommend the use of water fountains for all cats. More sensitive cats, such as those who are a bit older, may especially need the extra support that a fountain can provide.
Talk to your vet about water fountains at your cat's next check-up, and always consult a professional if you're concerned about your pet's hydration levels.
Customer reviews
Product reviews are filtered by language.
The following reviews are available in English.
Nice Quiet Fountain.

This is a very nice, quiet drinking fountain which is good value for money. I do have a couple of small issues with it, the first being that the instructions are vague and poorly written and I've ended up with a small piece of important looking pipe left over, which did not seem to fit anywhere. Secondly, when topping it up, there is no indication of when it's full. This has resulted in a flood a couple of times! Overall, I'm pleased with it and especially the price, and would probably buy it again despite the couple of issues. The main thing is that the cats seem to like it just as much as they did their old one.