Skip to content
Skip to navigation menu
Kokoba Pet Slicker Grooming Brush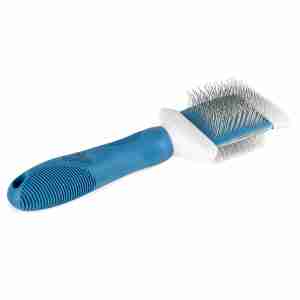 Rollover image to zoom
Product details
The Kokoba Double Side Slicker Brush is a two-sided brush that detangles and conditions your dog's fur.
How it works
This double-sided dog brush has two faces, one barbed that removes knots and dead hair and one with prongs that conditions and gives volume to your dog's fur. The metal is rounded at the end so you don't have to worry about harming your pet's skin during grooming sessions.
The head of this brush is flexible, making it ideal for reaching tricky spots like under their stomach, arms and tail. This also means you don't have to increase the pressure when grooming your dog.
An ergonomic handle is comfortable for long use. A grip support stops it from sliding out of your hand – which is very important if your pet isn't fond of being brushed. To keep it clean, simply pull dead fur off the head after use and soak in warm water regularly.
Key benefits
double-sided: one side for removing knots, one for conditioning
two sizes: large (222x80x38 millimetres) and small (159x69x40 millimetres)
easy to keep clean
flexible head for hard-to-reach places
comfortable grip handle.
When to use it
Try to groom your dog both after and between bath times to keep their fur in good condition. Longhaired breeds will need a little more attention than shorthaired breeds – pay particular attention to areas that are prone to knots, like under the stomach and arms. Knotted hair can become matted with dirt and can be uncomfortable for your dog – avoid this by grooming them regularly.
Available in two sizes, this brush is ideal for small and large breed dogs. The large size brush (222x80x38) is perfect for bigger dogs like Labradors and Dalmatians. While the small (159x69x40) will suit smaller pets like pugs.