Skip to content
Skip to navigation menu
Kokoba Pet Flea Comb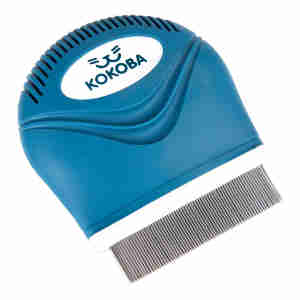 Rollover image to zoom
Product details
The Kokoba Flea Comb removes fleas from your pet's fur.
How it works
The Kokoba Flea Comb has fine, metal prongs that glide easily through your pet's fur to the surface of their skin to remove fleas. Removing fleas from your pet's fur is essential to stop them laying eggs and breeding.
With a comfortable, grip handle, this comb can be used on wet or dry fur so you can take it into the bath with you while applying flea shampoo to your pet. The length of the prongs is ideal for cats or dogs with long or short fur.
To keep clean, remove all traces of fur from the bristles after use. Soak the comb in hot, soapy water after each use to kill off bacteria.
Key benefits
for cats or dogs
fine prongs glide easily through fur
easy to use on long or short fur
metal prongs for removing fleas
can be used in wet or dry conditions.
When to use it
When your pet has fleas they need to be dealt with straight away. Fleas not only breed quickly, but flea dirt left on your pet's skin can cause irritation and allergy. If you notice your cat or dog scratching more than usual, check their neckline or under their arms for fleas – get advice from your vet if you're unsure.
The flea comb can be used to remove fleas once a flea treatment has been applied. By removing eggs after treatment, you lower the risk of an outbreak recurring. Use a flea shampoo or spot on solution to kill the fleas then comb through your pet's fur thoroughly to remove larvae and residue.
Customer reviews
We're sorry but there are no reviews of this product in English.