Skip to content
Skip to navigation menu
Kokoba Perfume for Dogs & Cats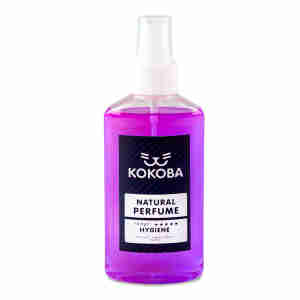 Rollover image to zoom
Product details
Kokoba perfume for dogs and cats freshens up your pet's smell when they're between bath-times or visits to the groomers.
How it works
Bathing your pet too often can strip their hair and skin of the natural oils which keep their coat healthy, but sometimes they might smell less-than-fresh even when they aren't due a bath. This all-natural perfume spray is the perfect way to refresh your furry friend's coat without risking any damage to them. It doesn't contain any alcohol, so it's non-drying and it's pH balanced to reduce the chances of skin irritation. The scent is subtle so that it doesn't overpower anything. It also works as a deodoriser, tackling bacteria that can cause nasty whiffs.
Key benefits
125 millilitre bottle
made from all-natural ingredients
neutralises odours
lightly fragranced
alcohol-free formula
pH balanced: sensitive to your pet's skin and hair.
When to use it
If your pet's smell is a bit strong but their next bath is a few weeks away, give them a spritz of this perfume. It's perfect if you have guests coming around, or simply want to reduce their odour. To use it, shake the bottle well. Hold it about 15-20 centimetres from your pet, being careful not to aim it towards their eyes, and spray. If a bit does get into their eyes, rinse them well with water. You can also use the perfume after bathing, as it's a natural deodoriser.
Although it's natural for dogs and cats to smell a bit, excessive body odours can be a sign of underlying health issues. It could be caused by a skin infection, or bacteria getting under your furry friend's skin due to excessive scratching caused by an allergy. Look out for other symptoms like scratching, patches of swollen red skin, and general restlessness. If you're unsure about your pooch or kitty's health, you should always speak to a vet.
Ingredients
Water, glycols, fragance, excipients
Customer reviews
We're sorry but there are no reviews of this product in English.