Skip to content
Skip to navigation menu
Kokoba Natural Clumping Cat Litter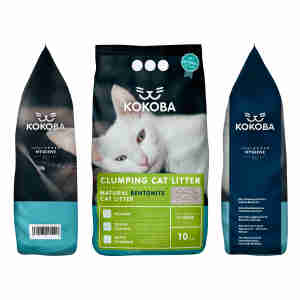 Rollover image to zoom
Product details
Kokoba clumping cat litter is easy to clean and 100% natural.
How it works
Clumping cat litter is popular with cat owners, because it's so much easier to clean. It's made from white bentonite, a natural substance which is completely safe for cats. It clumps easily, so it doesn't get stuck to kitty's paws and dragged around the house. Because it comes together you don't need to empty the whole tray to clean it out. You simply need to pick out the lumps. You can do this with your hands (wearing gloves, of course) or by using a specially designed scoop. Another bonus: it doesn't produce much dust.
To use it, fill the tray up to about 5-7 centimetres. Remove clustered waste from the tray every day to keep it from smelling. Add more litter to the tray once a week to replace what you've taken out and empty and wash the tray once a month, replacing the litter once it's dry.
Key benefits
produces less dust
100% natural and safe for cats
environmentally friendly
fast-clumping and long-lasting
controls odour
easy to clean: just pick out the clumps
keeps tray dry
made from fine white bentonite.
When to use it
Use it in place of your normal cat litter. Note that some cats don't like change. If you want to switch to clumping litter, you'll need to do it gradually. If your four-legged friend goes to their tray and finds a big change, they might start going to the loo on the floor. To introduce it, mix a small amount in with the old stuff. Do this slowly, over the course of three to five days.
Customer reviews
Product reviews are filtered by language.
The following reviews are available in English.
best ever litter

brilliant litter - no smell and you only take out what has been used.

Simply the best

As I said this is simply the best litter I've used.. My 2 girlies love it and so do I, No smell and using the cat litter liners as I do there's no mess, just take the bag out, bin it and clean bag in and then done.. Wouldn't use anything else, only real problems I've had is the packaging it's delovered in, delivery drivers aren't careful and boxes have come broken in the past and bags have been torn by yodel but always put right and resent by Hermes, so if anything my advice is yes purchase this it's great but pet supermarket you need to use a different delivery company as Yodel as very poor and Hermes are much more careful with your parcels

Cat Litter Best I've bough

This cat litter is the best I've bought. It clumps well, stays fresh , doesn't cause a terrible pong, dust is minimal, and litter doesn't get tracked everywhere. Delivery was very quick. Only downside is that the box used by Pet-Supermarket for packaging was yet again inadequate for the weight of contents, and had split open & yet again. You do need to get your act together that the packaging is suitable for size and weight of what is being sent.

Purrrrfect

Kokoba cat litter is the best clumping litter we have used, less dust, virtually odour free, doesn't stick to cats paws...so no litter trails.

Clumps .

Kokoba is a superb clumping litter . Easy to clean , very little odour if any , best of its kind .