Skip to content
Skip to navigation menu
Kokoba Litter Box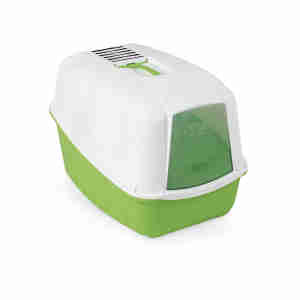 Rollover image to zoom
Product details
The Kokoba cat litter box is a great way to introduce nervous cats and kittens to using an enclosed space to do their business.
How it works
Enclosed boxes are better for keeping your home tidy, as the high sides mean it's nearly impossible for your pet to kick cat litter all over the floor once they're finished using the loo. The swing opening means it's easy to reach in and clean it. You can also leave the roof open at first to entice anxious cats or young kittens to make the transition from an open tray to a lidded box. The high quality plastic is durable and easy to clean, and there's a scoop included so you can easily pick up any droppings.
Key benefits
made from high quality plastic
gives cat plenty of privacy to do their business
reduces the amount spraying on the floor
scoop included
handy integrated lid: easy to clean
can use an activated carbon filter to get rid of unpleasant odours
designed with nervous cats and kittens in mind.
When to use it
This box is ideal for pets who haven't used an enclosed litter tray before. It's also good in homes with dogs, especially if your pooch is a little too interested in what your cat leaves behind. Because cats need privacy to use the loo, the box is perfect for small homes with few nooks and crannies. Litter box placement is still important, however. Try to find somewhere peaceful and quiet: not a busy living room with a lot of traffic, or the main hallway. It's also important not to place it too close to your cat's food and water bowls. Cats are very clean creatures and won't want to do their business in the litter box if they feel it's too near their food source.