Skip to content
Skip to navigation menu
Kokoba High Sided Cat Litter Tray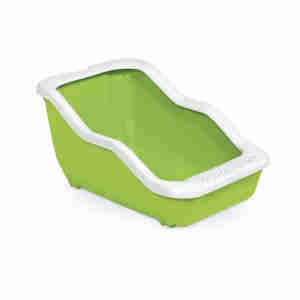 Rollover image to zoom
Product details
The Kokoba high-sided cat litter tray is a great alternative to enclosed boxes for anxious pets.
How it works
This high-sided tray has a protective edge to stop your furry pal from kicking cat litter out and onto the floor after they've gone to the loo. The durable plastic construction means it's designed to last. It's quick to clean, too, as the border can be taken off so that you can replace the litter or wash it out without any fuss. This also makes it easy for senior or unwell cats to get into too.
Key benefits
high sides stop spraying
made from high quality, durable plastic
great alternative for cats who don't like enclosed litter boxes
easy for elderly or unwell cats to step into
edge is removable, so the tray easy to clean.
When to use it
Some cats, especially kittens, get nervous about using enclosed boxes. Using a high-sided option combines all the benefits of a closed-up box (it's tidier) but with all of the benefits of a standard tray (it's open to the room). Even if your kitty isn't keen on traditional boxes, they'll still enjoy privacy when it's time to use the loo. It's best to put it somewhere quiet, ideally in a corner. Make sure there's enough cat litter for them to burrow into (around 3 centimetres) and that it's not placed near their food or water bowls. Cats are very clean creatures, and in the wild they wouldn't make a mess near their watering hole.
Customer reviews
Product reviews are filtered by language.
The following reviews are available in English.
Best ever!

I can't believe how brilliant this tray is for our elderly diabetic cat, The poor girl is getting stiff in the legs now as well and she was going over the sides of traditional trays. Not had one accident since I got two of these before Christmas. Highly recommended.

Problem solved!

My elderly cat regularly peed over the top of our normal tray, I'm assuming he stands up because he has arthritis in his hind legs and hips. This tray solved the problem, he stands and the urine just hits the back of the tray rather than going all over the floor. Also the best price I could find all over the internet, quality is very good.

Perfect

I've tried hooded trays which mine weren't keen on and a low sided tray which I then end up with litter kicked everywhere! This tray is perfect high sides so if the aim a little to high it stays in the tray and less mess when they cover up their buisness. Definitely recommend it

Just what I wanted

Just what I wanted as my cat was spraying onto the wall and it was driving me mad. This has done the job. Having said this, he decided to turn around in the box an spray the other way!!! Typical cat. Seriously, most times he turns the right way around.

Brilliant idea.

This is perfect for Snowy my 11year old cat who has arthritis in her back legs. It makes it easier for her to get in and out, also there is hardly any cat litter strewn about after use due to the high sides. So I would say a pur fect product. I would highly recommend this product and seller.