Skip to content
Skip to navigation menu
Kokoba Food Dispenser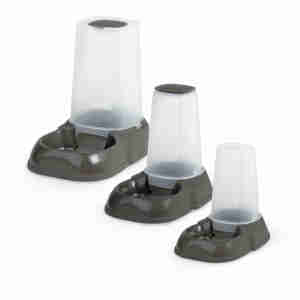 Rollover image to zoom
Product details
The Kokoba dispenser releases food on demand, taking the stress out of your pet's meal times.
How it works
The dispenser automatically gives out food when needed. Simply fill up the compartment with your pet's favourite dry meal. As they eat, it refills automatically as food drops down from the compartment. Although it takes a lot of work out of dinnertime, you will need to keep an eye on the food level. Once it gets low, top it up so that your furry friend's always got enough. The dispenser is made out of high-quality plastic, so it's sturdy enough to handle even the most enthusiastic eaters. It's durable, long-lasting, and non-toxic.
Key benefits
comes in different measurements to suit pets of all shapes and sizes
made from high quality and durable plastic
gives your pet control over how much they eat
makes mealtimes hassle free
keeps your pet well-fed, even if you get home late.
When to use it
Pets like routine. Although it's best to feed them at the same time every day, sometimes it's not possible due to hectic and varied work schedules. If you're often held back by last-minute meetings or called away on day-long business trips, an automatic feeder will keep your pet well fed while you're out. One of the biggest benefits is that it takes the work out of meals, perfect if you have more than one mouth to feed. You don't need to fill a bowl twice a day, as the feeder will do it for you.
Small can hold up to 200gr
Medium can hold up to 700gr
Large can hold up to 1500gr
Size Guide
| | | | |
| --- | --- | --- | --- |
| | H (cm) | W (cm) | D(cm) |
| Small | 17.5 | 11 | 17 |
| Medium | 27 | 18 | 28 |
| Large | 32.5 | 20 | 29.5 |
Customer reviews
Product reviews are filtered by language.
The following reviews are available in English.
Great value feeder

Easy to use feeder, although the cat hasn't got the hang of teasing out the food ... or its just last!

Handy feeder

Ideal for dry food but slightly disappointed that I have to give a shake to get the food to refill

Great value

I bought two sizes and was delighted with them. They keep the food fresh and it is always available. Sooty just uses her paw to make more kibble fill the tray. A great buy.

Simple but works

I bought a number of the largest size to feed our indoor cats & two expensive Maine Coons - male of which would run away if possible and two & free feral kittens & who would never dream of running away. Access to dry food works very well, the cats simply claw the food out. I secured the two outdoor feeders to a slotted garden table by drilling two holes , one one either side of the brown food dish and securing with a long tie thro each hole and around a table slat. This allowed us to go on holiday for a week and provide sufficient food for both the indoor and outdoor cats together with water fountains. However, the local magpies and other local cats can also use these cat feeders so a sufficient number of the large size feeder should be deployed if your are feeding outdoor cats. The feeders are easily washed, seem to be ok in a dishwasher. Would recommend.

Couldn't be Happier

I was a bit sceptical at first but as the product was so cheap I thought I'd give it a go! Am glad I did as it was just what we were looking for. Our cats wake us up every morning at silly o'clock food and we end up going down and feeding them just so we can get back to sleep. But with this Feeder, it illuminates the problem as the cats can help themselves to biscuits as and when they are hungry meaning no more early morning wake up calls for us! Then when we wake up we can feed the cats their meat at our lesure and then they're happy for the day! Would definitely recommend this product!