Skip to content
Skip to navigation menu
Kokoba Donut Bed London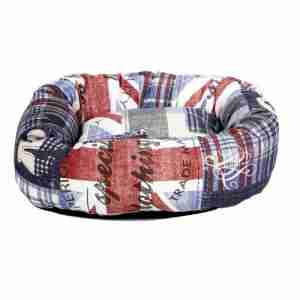 Rollover image to zoom
Product details

This London themed, donut-shaped firm-filled bed is the ideal shape and size for small and medium dogs and cats to sleep on.
How it works
With raised edges and a cushioned middle section, this bed is a cosy and secure space for dogs or cats. For pets who often end up muddy after they've been out on walkies, the cotton-blend design is perfect as it's machine-washable at 30 degrees, meaning it's quick and simple to give it a clean whenever needed.
The donut bed is compact and comes in a stylish colourful London print that will fit in with any décor. The filling is a spongy polyester, helping it keep its shape after use – so it'll still be as comfy in the long run as when your pet first slept on it.
Key benefits
ideal for medium and small breed dogs and cats
machine-wash at 30 degrees
compact donut shape
spongy polyester filling.
Please note that the bed and cushion will need plumping into shape upon unpacking.
When to use it
The raised edges will help your four-legged friend feel safe and secure so they can get a peaceful rest when it's time for a nap. If your house is busy, try placing your pet's bed in a quiet corner where they can feel out of the way and a bit more relaxed.
Customer reviews
We're sorry but there are no reviews of this product in English.