Skip to content
Skip to navigation menu
Kokoba Dog Clicker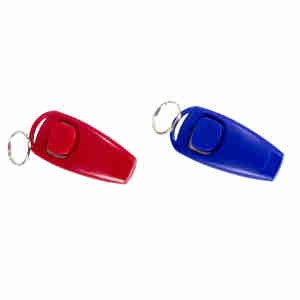 Rollover image to zoom
Product details
The Kokoba dog clicker is a handy tool for helping to train your dog.
How it works
Dog clicker training is hugely popular and a very effective method of positive reinforcement. Your pet will soon come to learn that the distinct clicking noise of this handy tool equals a reward, which will help them to understand what good behaviour is (and isn't). This easy-to-use tool can be attached to your keychain for training at home or on the go. To use it effectively, first teach your dog that click means reward. Press the clicker just one time and then give your pet a small treat. This helps them to associate the sound with a reward. Once they understand this, you can then start to teach your pet simple commands.
Key benefits
dog clicker helps with training
handy for teaching your dog positive reinforcement
a great tool for pets that are new to the family
ergonomic design fits in your hand easily
can be added to your keychain
clicker and whistle combination
When to use it
If your pet is new to the family or very young (or both), they might be nervous or excitable which could lead to bad behaviour. With careful training, they can quickly learn the difference between good and bad. To get them up to scratch with the house rules, use the Kokoba dog clicker. There are a few tips you can follow to make training your pet using the clicker go smoothly. Always click when the desired behaviour is happening, not afterwards, and reward your pet as soon as you've pressed the clicker so that they understand the positive association. When you're phasing out the clicker, keep rewarding your dog for good behaviour, either with a verbal cue or a pat on the head.