Skip to content
Skip to navigation menu
Kokoba Deshedding Conditioner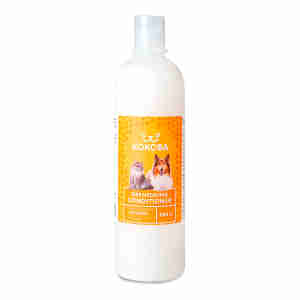 Rollover image to zoom
Product details
Kokoba deshedding conditioner is a deeply hydrating post-shampoo treatment to reduce shedding and detangle long hair.
How it works
This deeply nourishing conditioner is specially formulated to strengthen and nourish your pet's coat and moisturise their skin. The special blend of natural ingredients condition and help to release the undercoat, making excessive shedding less likely. It also softens knots and tangles in long-haired pets, meaning brushing and grooming's a lot easier. The deeply hydrating ingredients boost skin health, and work to regenerate and restructure unhealthy skin and hair. The formula is more than 90% biodegradable, so it's good for the environment as well as your furry friend's coat.
Key benefits
500 millilitre bottle
suitable for cats and dogs
deeply nourishing formula restructures and regenerates hair and skin
detangles and softens knots in long-haired pets
extremely moisturising
more than 90% biodegradable
used by professional groomers
pH balanced for skin health.
When to use it
Shedding is normal for most cats and dog breeds, as they grow thicker coats in the winter and then lose them in spring. Excessive hair loss, however, can sometimes be a sign of an underlying health issue such as stress, poor nutrition or a medical condition. The ingredients help improve overall hair health, but if you're still concerned about the amount they shed, it's worth speaking to your vet.
This conditioner is also a good option if you notice your long-haired pet getting a bit tangled. Knots can end up matted together, which is often uncomfortable and painful for your pet. To use it, wash your four-legged pal normally with their regular shampoo. After you rinse, rub a big dose of conditioner into their coat. Comb it through and then leave it for five minutes before rinsing thoroughly.