Skip to content
Skip to navigation menu
Kokoba Corner Cat Scratching Board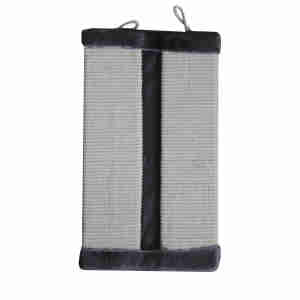 Rollover image to zoom
Product details
Cats love to scratch with the Kokoba 3-in-1 Scratching Board, you can give them the perfect place to stretch and flex their claws.

How it works

Cats scratch to mark their territory, stretch their bodies and keep their claws in good shape. The Kokoba 3-in-1 Scratching Board is an attractive alternative to your sofa or rug.
The 3-in-1 design is great if you have more than one cat, as they can all enjoy a good scratch together.

Made from durable sisal, the board can stand up to prolonged scratching. The included wall brackets make it easy to slot this board into your cat's favourite corner.

Key features
natural sisal material is tough and long-lasting
wall brackets for easy installation
can help prevent your pet from clawing furniture.
When to use it

Cats have a natural urge to scratch and claw, which is important for their overall health. It not only relieves stress and relaxes your pet, it can help to prevent ingrowing claws and buildup of dry, dead skin. You will often see your cat stretching while clawing too, which helps to keep their muscles toned and flexible.

Your pet will scratch anything that offers resistance and this might mean the wood and fabric of your furniture. Fitting a Kokoba 3-in-1 Scratching Board in their favourite place is a great way to give them a comfortable place to scratch, minimising the shredding of your interiors. This particular design is well-suited to a home with several cats, thanks to the multiple surfaces and fluffy toy.

Make sure to discuss the best spots to place a scratch board with your vet, as some cats might need more than one to keep them away from household furniture.
Size Guide